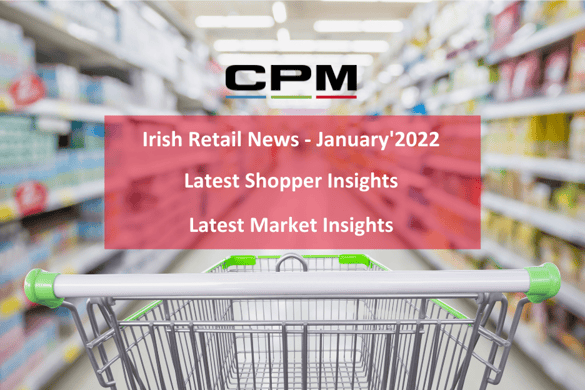 Welcome to CPM's monthly retail news roundup, Retail Intelligence. In these posts we will share some of the key highlights of the Irish retail industry and what this means for your business. With over 34 years of experience driving sales in the Irish market, at CPM we have a passion for retail and insights, so we hope you find this content useful. We would also love to hear what content you would like to see in the future so please feel free to contact us with any thoughts.
Spar supports 'Believe in Magic' Christmas Appeal 2021 for Make-A-Wish Ireland
Spar and Make-A-Wish's "Head of Magic" Keith Barry have come together this Christmas to urge the public to give the most precious gift of all by helping grant the wishes of sick children all over Ireland during the festive season
Retail revolution: Supermarkets sweep away our old way of shopping
Lockdowns caused an explosion in delivery and click-and-collect options, now retailers face challenge of finding a model that caters for everyone, including their bottom line
Lidl Ireland opens new Talbot Street store with €3 million investment
Lidl Ireland opened a brand-new store on Talbot Street, Dublin on Thursday, 16 December, in a move which the retailer said will create 30 new jobs and provide an investment of €3 million to the local area.
Retailers and couriers brace for a 17% surge in deliveries as High Street visits tumble
Online retailers and couriers are experiencing a late avalanche of last-minute gift deliveries in the UK, says ParcelHero, as visits to the High Street collapse by 25%
December drop in consumer confidence points to seasonal fear rather than cheer: KBC Bank
Analysis by KBC Ireland's Austin Hughes shows biggest monthly drop since January has seen Irish consumer sentiment end 2021 on sour note
European Supermarkets Stop Selling Brazil Beef Over Deforestation Links
Six European supermarket chains, including two owned by Dutch firm Ahold Delhaize and a Carrefour subsidiary, said on Wednesday they would stop selling some or all beef products from Brazil due to links with destruction of the Amazon rainforest.
Lidl Ireland Wins European Excellence Award 2021 For CSR Report
Lidl Ireland has been awarded a European Excellence Award 2021 for its Corporate Social Responsibility (CSR) Progress Report which was launched this year.
Dunnes Stores Holds Biggest Share of Irish Grocery Retail Market
Dunnes Stores holds the biggest share of the Irish grocery retail market, at 22.8%, over the 12 weeks to 28 November.
Dealz-Owner Core Earnings Surge 46% On New Store Openings
Pepco Group, owner of the PEPCO, Poundland and Dealz discount retailer brands in Europe, reported a 46% jump in its 2020-21 core profit on Tuesday, reflecting new store openings amid the easing of lockdown restrictions.
Aldi wins overall award at business energy achievement awards
Aldi Ireland has been awarded the Overall Energy Achievement Award, the top award at the 2021 Business Energy Achievement Awards, in recognition of its approach to using sustainable energy, energy reduction and reducing carbon emissions.
Profits at B&Q's Irish arm double to €13.1m as consumers splash out on home goods
Profits at the Irish arm of DIY chain B&Q doubled to €13.1m in its last financial year as it enjoyed a boom in spending by consumers who splashed out on home and garden improvements during the pandemic.
Omicron to hit 'Irish Christmas retail, but supply chains in much better shape'
The surge of the Omicron variant will hit Irish shops this Christmas, but supply chains will likely avoid the major disruption of last year, despite lockdowns in several European countries, experts have said.
Alcohol consumption down 6% worldwide, 6.6% in Ireland
Alcohol consumption dropped by 6% worldwide and 6.6% in Ireland last year, according to a new report by Drinks Ireland.
Retailer Currys edges down profit guidance after 'challenging' Christmas
Group previously known as Dixons Carphone cuts full-year guidance as sales decline.
Tesco raises profit outlook for second time in four months
Irish outlets saw sales fall by 3.3% in third quarter but rise slightly over Christmas.
Marks & Spencer sees record sales of food over Christmas
M&S says its Irish performance was 'driven by clothing and home growth'
Retail sales lift as consumers splash out on clothes and electrical goods
Volume of sales in November was 0.6% higher in monthly terms and 16% up on 2020
Services sector growth slows due to Omicron wave
PMI index from AIB has shed over 11 points since hitting a near-21-year high in July
Premium own label sales reached a record-breaking €58 million for Christmas 2021
People's desire for a more luxurious Christmas meant premium own label sales totalled €604,000 more than in 2020
Keohane Seafoods Signs New €20m Deal with Lidl
Lidl Ireland has announced a new multi-million-euro deal with Cork-based seafood company Keohane Seafoods, valued at more than €20 million.
Aldi Ireland Reports Christmas 2021 As Best Ever
Aldi Ireland has said that in terms of sales, Christmas 2021 was its best ever. Aldi Ireland's market share was the best performing for the 12 weeks to the 26 December 2021, achieving 11.6% market share and a sales growth of 14.2% over the last two years.
A desire by British shoppers to celebrate Christmas at home spurred Tesco and Marks & Spencer to the top of the festive retail pile, with demand for premium food, wine and champagne helping both to upgrade profit forecasts.
Dunnes Retains Number One Spot as Ireland's Largest Grocer
Dunnes Stores has retained the number one spot as Ireland's largest grocery retailer, securing 23.2% of the market, during the 12 weeks to 26 December 2021.