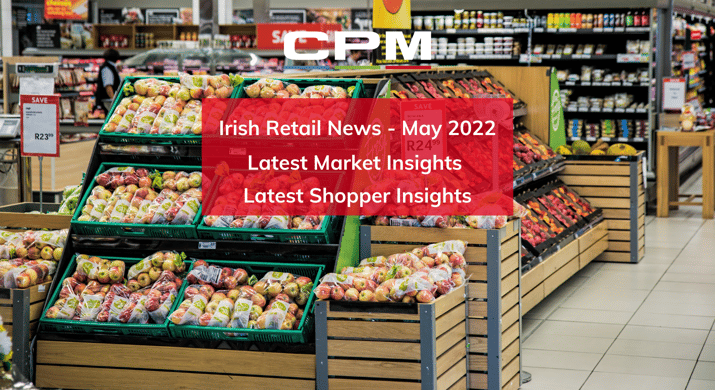 Welcome to CPM's monthly retail news roundup, Retail Intelligence. In these posts we will share some of the key highlights of the Irish retail industry and what this means for your business. With over 34 years of experience driving sales in the Irish market, at CPM we have a passion for retail and insights, so we hope you find this content useful. We would also love to hear what content you would like to see in the future so please feel free to contact us with any thoughts.
Dunnes Leads the way as Ireland's Top Grocer
Dunnes Stores has retained its position as Ireland's largest grocer, holding a 22.4% market share in the latest 12 weeks, research shows.
The latest grocery market share figures from Kantar in Ireland indicate that the retailer was bolstered by the 'largest influx of new shoppers this period, who contributed an additional €56.8 million to its overall performance.'
Tesco reports surge in profit but Irish like-for-like sales decline by 3%
Supermarket giant posts 36 per cent jump in annual profit
Retail could be next sector to face 'damaging' staff crisis
Excel Recruitment warns trajectory of job postings is on consistent upward trend
One in four households struggling to make ends meet with weekly food shop
Inflation takes toll on consumers as grocery sales plunge 7.2%, says Kantar
Almost a quarter of Irish households say they are struggling to make ends meet with their weekly food shop, with take-home grocery sales in the Republic plunging 7.2 per cent year-on-year in the 12 weeks to April 17th, new figures from Kantar show.
Retail sales rise despite cost-of-living squeeze
CSO figures show consumers spent more on cosmetics and in department stores in March
Retail sales rose in March despite the cost-of-living squeeze as consumers spent more on pharmaceuticals and cosmetics and in department stores.
SPAR Launches Summer Picnic Recipe Series with Donal Skehan:
SPAR has partnered with Donal Skehan to launch a series of digital videos: Donal's Picnic Basket.
Primark Expands Sustainable Cotton Programme
Primark (which trades as Penneys in Ireland), one of Europe's biggest fast fashion chains, has pledged to train an additional 125,000 smallholder cotton farmers in more sustainable farming methods in India, Pakistan and Bangladesh by the end of 2023.
Mulrines Signs New €8m Contract Extension with Lidl
Lidl Ireland has announced that it has signed a new contract extension – worth more than €8 million – with Donegal juice and smoothie producer Mulrines.
Aldi Launches New Partnership with Mental Health Charity Aware
Aldi Ireland has announced that it has launched a new partnership with Aware to provide staff with more access to counselling, wellness coaching, financial wellbeing support and more.
Boots in Store For £8bn Sale as Bid Deadline Looms
Boots has set a 24 February deadline to receive indicative bids from a series of deep-pocketed investors that could value the 173-year-old firm at up to £8 billion ($10.88 billion), two sources told Reuters.
Aldi Ireland Recognised for Eco-Efforts with Green Retailer Award
Aldi Ireland has received the Green Retailer Award at this year's Green Awards, in recognition of its company-wide commitment to a series of sustainability initiatives, including carbon and waste reduction, biodiversity, community engagement and staff training and awareness.
Irish spirit wins 'Best Value' Award at 2022 London Spirits Competition
An Irish spirit impressed judges by offering excellent value at the 2022 London Spirits Competition.
Samuel Gelston's Single Malt secured the top score in value with 93 points and a gold medal.
Samuel Gelston's Single Malt, a non-age statement Single Malt, matured in ex-bourbon casks, is a versatile premium whiskey.
Meath distillery planting 2,000 trees to offset barrel use
Staff at a Co. Meath distillery are helping to plant 2,000 trees as part of a ground-breaking sustainability drive.
Family-run drinks firm Boann is getting into the environmental spirit with a major green initiative to offset the use of wooden barrels to age its whiskey.
Penneys and Primark to raise prices as cost pressures mount
Retailer plans price increases for autumn-winter stock in delicate balancing act
Dublin-based budget fashion chain Primark (which operates as Penneys in the Irish market) will raise prices as it battles severe inflationary pressures, its parent, Associated British Foods, said on Tuesday as it also warned about the margin outlook at its food businesses, sending shares lower
Decathlon set to open second store in Republic in Limerick
French sports retailing giant signs 25-year lease for new outlet at Parkway Retail Park
Grocery sales fall more than 7% as inflation bites
Big reduction in special offers as supermarkets seek to contain impact of price hikes
Asda Owners Set to Buy McColl's, Saving 16,000 Jobs
The owners of British supermarket group Asda are set to buy McColl's out of administration, saving around 16,000 jobs after the convenience store chain's lenders rejected a rescue deal from Asda's rival Morrisons.