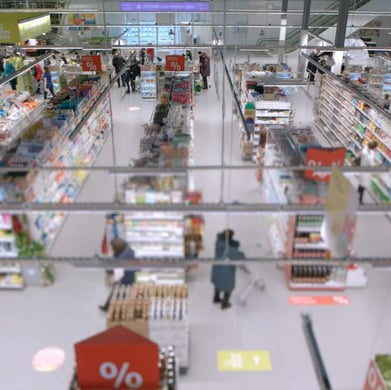 Welcome to CPM's monthly retail news roundup, Retail Intelligence. In these posts we will share some of the key highlights of the Irish retail industry and what this means for your business. With over 34 years of experience driving sales in the Irish market, at CPM we have a passion for retail and insights, so we hope you find this content useful. We would also love to hear what content you would like to see in the future so please feel free to contact us with any thoughts.
Irish grocery market sales dipped by 2.3% in the 12 weeks to September 5, 2021.
New figures from Kantar show that grocery sales dipped by 2.3% in the 12 weeks to September 5 as people slowly returned to their pre-pandemic routines.
Spirits exports from the Republic declined by 16% last year
Some spirits categories benefited from the consumer shift to the off-trade in Ireland, according to the report, with Irish cream liqueur sales growing by 26.5%.
M&S Ireland Cancels Christmas Food to Order Due to Brexit Delays.
Mark & Spencers Ireland has announced that it will not be able to offer pre-Christmas Food To Order to its Irish customer base this year.
Maxol unveils ambitious new growth plans
Maxol Group CEO, Brian Donaldson, reveals the company's ambitious €20m investment programme for 2022, as well as noting the factors that are contributing to a strong performance this year.
Musgrave Marketplace and Circle K Enter New Five-Year Partnership
Under the terms of the partnership, Musgrave Marketplace will supply the Circle K network of company-owned and franchise service stations.
Irish Consumer Confidence Slides as Covid-19 Cases Surge
Research shows that Irish consumer sentiment weakened somewhat in November, likely reflecting a number of concerns that attracted increasing attention during the period
Aldi Announces Plans to Open 30 New Stores In €320m Irish Expansion Drive
Aldi has pledged to invest €320 million over the next three years (2022-2024) in a bid to further grow its share of the Irish grocery market.
Inflationary Pressures Worsen for Irish Food and Drink Sector, Says FDI
Paul Kelly, director, FDI commented, "The rate of cost inflation in the sector continues to rise across all the main inputs and this is now increasingly accompanied by supply shortages of these inputs.
Britain's Supply Disruption Hits Greggs' Vegan Sausage Rolls
British baker and fast-food chain Greggs' has warned that its vegan sausage roll is the latest product to succumb to supply chain disruption.
Marks & Spencer sourcing Irish product after Brexit cuts
Marks and Spencer (M&S) is trying to source more product locally for its Irish stores after running into trouble with post-Brexit export controls on food.
Tesco Ireland signs €9m-a-year deal with Ballymaguire Foods
Producer will supply an additional 16 new fresh, Irish-made prepared meals and side dishes
SuperValu Remains the Leading Grocer In Ireland, Research Shows
SuperValu once again leads the way as Ireland's leading grocery retailer and holds a 22.5% share of the market.
Lyre's hits £270 million valuation in category's largest funding round to-date
Leading non-alcoholic spirits brand raises £20 million to accelerate growth
Government forecasts employment to surge past pre-pandemic levels in 2022
Country's unemployment rate will reduce to 6.5% by fourth quarter, says Donohue
Frozen turkeys in high demand as Christmas shopping starts early
Aldi selling four times usual amount of turkey crowns as consumers heed warnings over festive shortages
Alcohol consumption in Ireland takes a nosedive
The figures show that beer and cider sales were the hardest hit, down by 15% and 13% respectively. Typically, around 60% of beer sales and 45% of cider sales are in Ireland's pubs, restaurants, and hotels.
Tesco: Cambs pumpkin farmer expects huge demand this Halloween
Demand for pumpkins grew by 15% this year compared to last year following disappointment where many couldn't celebrate how they wished to
One in Five Adults Expect To Spend More This Christmas Compared To 2020
Spending is on the rise this year as one in five (20%) adults expect to spend more this Christmas compared to what they spent last year.
Irish Consumer Sentiment Holds Steady In October, Research Shows
Household spending showed a dramatic 12.6% quarter-on-quarter improvement, it remains about 5% below its early 2019 level and about twice that below its pre-pandemic trend.
Consumer confidence slipped in October
According to the survey, Budget Day, rising costs, and prices, along with emerging doubts over plans to fully lift the remaining public health restrictions made for an uneasy setting this month.