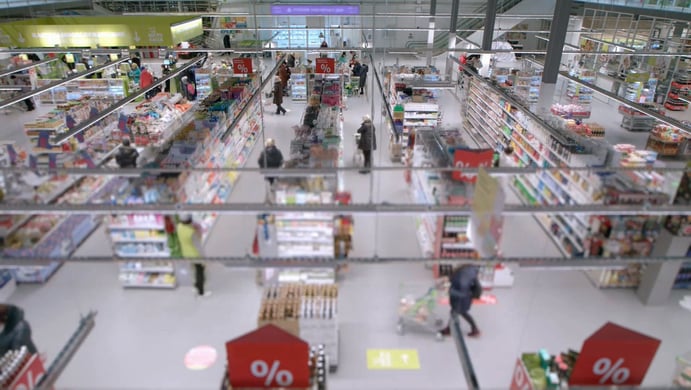 Welcome to CPM's monthly retail news roundup, Retail Intelligence. In these posts we will share some of the key highlights of the Irish retail industry and what this means for your business. With over 34 years of experience driving sales in the Irish market, at CPM we have a passion for retail and insights, so we hope you find this content useful. We would also love to hear what content you would like to see in the future so please feel free to contact us with any thoughts.
Ireland's largest grocers see market share gains for the first time in over a decade
Latest figures from Kantar show that sales remain 11.1% higher than the same period in 2019
Retail revolution: Supermarkets sweep away our old way of shopping
Lockdowns caused an explosion in delivery and click-and-collect options, now retailers face challenge of finding a model that caters for everyone, including their bottom line
Irish Shoppers Threw Away €365 Worth Of Food Each During Lockdowns, Research Shows
According to the research, a third of Irish adults (36%) bought more food during the lockdowns, with one in three of these adults stating they wasted or threw out more food during lockdown restrictions compared to pre-pandemic times.
Returning to old habits: Online sales down 12% at supermarkets
Online sales at Ireland's supermarkets dropped by 12.3 per cent in the past four weeks as people edged back to their pre-pandemic routines, the latest data from Kantar shows.
Circle K makes foray onto Irish high street with stores purchase
All the stores being bought are in Dublin and located in busy areas such as O'Connell Street, College Green, Grafton Street and Sandyford.
No sign of Aldi changing policy on Northern Ireland
GERMAN discounter Aldi has shown no sign of ending its long-standing policy of staying out of Northern Ireland.
Alcohol consumption fell by almost 11% in the first half of 2021
Beer and cider sales were the hardest hit, down by 15% and 13% respectively
Tesco Announces Group-Wide Net Zero Target By 2035
Tesco has today strengthened its ambition to tackle climate change by announcing a new Group-wide net zero target by 2035 for its own operations, including Ireland.
Hospitality industry looks forward to the relaxation of licensing laws
BARS and licensed premises across Northern Ireland are preparing to welcome a major change to licensing laws from this Friday (October 1)
Marks & Spencer sourcing Irish product after Brexit cuts
Marks and Spencer (M&S) is trying to source more product locally for its Irish stores after running into trouble with post-Brexit export controls on food.
Aldi Announces Plans To Open New €11m Store In Athenry
The new store will see Aldi investing €11 million in the construction of the new store, creating 25 new permanent jobs once the store opens, with up to 80 jobs supported during construction.
SuperValu Remains the Leading Grocer In Ireland, Research Shows
SuperValu once again leads the way as Ireland's leading grocery retailerhttps://www.shelflife.ie/lidl-ireland-welcomes-planning-permission-for-landmark-portlaoise-store/ and holds a 22.5% share of the market.
Lidl Ireland welcomes planning permission for landmark Portlaoise store
Development will see a substantial €9m investment in the local area, alongside the creation of seven new jobs with the retailer
Londis to support LauraLynn's Children's Hospice tenth birthday celebrations
Londis will proudly support the upcoming tenth birthday celebrations of its official charity partner, LauraLynn's Children's Hospice
SuperValu launches 'Tap to Donate' campaign to raise funds for AsIAm
Customers can tap to donate €2 at the till from 23 to 25 September to support autism inclusion
Food Drink Ireland: Substantial Brexit funding needed in Budget 2022
FDI director Paul Kelly said that Brexit poses a major disruption to the sector, which is still contending with the impact of Covid-19
Iceland Ireland first grocery retailer to partner With Uber Eats
Iceland customers are now able to order their groceries via Uber Eats, with stores in Limerick, Ballyfermot and Talbot Street among the 11 locations launching on the app
Irish Retail Sales Return To Month-On-Month Growth In August
Irish retail sales volumes returned to month-on-month growth in August after a brief dip in July, rising 3.5% even as no further COVID-19 restrictions were eased, with bar and department store sales increasing sharply.
Tesco, Love Irish Food mark first retail partnership with store-based activity
Tesco Ireland and Love Irish Food have launched their debut retail activation, which will see the retailer highlight new support for Love Irish Food brands in store from 6 September
95% of Aldi own-brand product packaging now recyclable
Over the past two years, Aldi has worked with its Irish suppliers to introduce new, innovative, sustainable packaging solutions that has resulted in over 2,150 tonnes of virgin plastic being removed from its 148 stores nationwide.