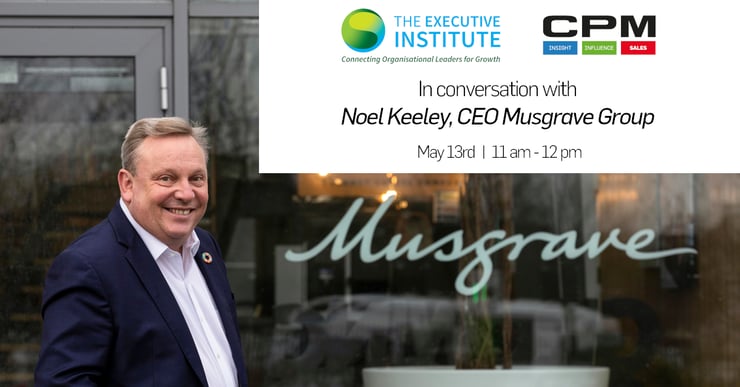 CPM is the proud sponsor of the latest FMCG webinar by The Executive Institute, which will be taking place on Wednesday, May 13th from 11 am to 12 noon. During the webinar, Noel Keeley, CEO of Musgrave Group will be sharing his thoughts on the future prospects for the grocery industry for the remainder of 2020 and beyond into 2021.
Supermarkets and grocery stores continue to be at the front line of the COVID-19 crisis as people continue to socially isolate at home, with more mouths to feed. In March, supermarkets had record sales month as people stockpiled amid crisis fears. Consumer shopping patterns moved away from 'occasion shopping' back towards the big weekly shop'. But will these type of consumer behaviours continue after the COVID-19 crisis abates? And, what will the anticipated post COVID-19 recession mean for the grocery trade and brand owners? Join us at this event and find out what are Noel Keeley's views on the future of retail.
As part of our brand promise to deliver insights to create influence and drive sales, at CPM we are delighted to support this webinar which is part of the Executive Level suite of events from the Executive Institute. The webinar promises to give you insights into the future of grocery and help you prepare for the retail landscape post Covid-19. If you are member of the Executive Institute and would like to register for the event, click here.
CPM is Ireland's leading field sales and marketing company. We have over 33 years' experience driving sales for blue chip clients in different sectors, such as FMCG, Consumer Electronics, Telecommunications, Technology, Energy, Charities and more. If you would like to step up your sales strategy, send us an email at info@cpmire.com