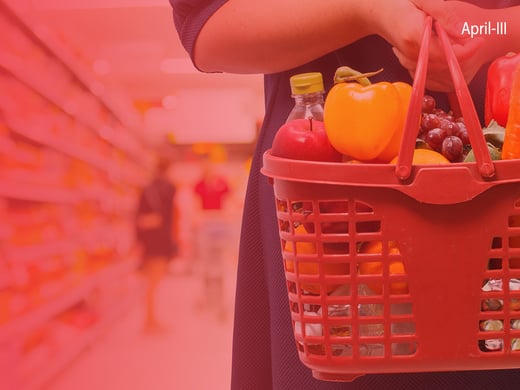 The new wave of Covid-19 is deadlier than what we witnessed last year & as we can clearly sense that there will be some major long term effects of the ongoing pandemic on retail, the industries will continue to bear the brunt. While the consumer demands keep changing, retailers leave no stone unturned to fulfil them. Let us go through this week's "Indian Retail at a Glance" to further understand how retail fared in the past week.
FMCG firms assure uninterrupted supply amid curfew in Maharashtra, restrictions in various states
FMCG firms assured uninterrupted supply of their products based on the learnings from the previous year's lockdown, even as surge in COVID-19 cases in India forced Maharashtra to declare a 15-day curfew while other states also impose various restrictions.
CLICK HERE TO READ MORE
Two-thirds of urban Indians plan to use online shopping & delivery services in the future
A latest research reveals two-thirds of urban Indians (67 per cent) plan to increase the use of online shopping or delivery services once the pandemic is over.
CLICK HERE TO READ MORE
Covid 2.0: Curfews, partial lockdowns threaten India's economic recovery
The impact of rising Covid-19 numbers is visible on the ground as footfalls have fallen by 50 per cent across retail stores. Malls, showrooms and branded shops are largely empty due to government restrictions. Data analysis shows that the retail industry saw a 23 per cent decline in March 2021 as compared to March 2020.
CLICK HERE TO READ MORE
Restrictions likely to impact footfalls but retailers have adequate stocks
Retailers and FMCG makers have adequate stocks at stores and warehouses and are prepared to manage the situation in the wake of fresh restrictions being imposed by various states amid a surge in COVID-19 cases.
CLICK HERE TO READ MORE
COVID-19 lockdown: Kirana stores less resilient; labour crunch impacts distribution
Unlike last year, when kirana store owners came to the rescue of consumers, this time around they are battling with the fear of contracting the virus.
CLICK HERE TO READ MORE
Online grocery orders surge as Delhi announces lockdown
With Delhi Chief Minister Arvind Kejriwal ordering a week-long lockdown, online delivery platforms saw a huge rush in orders, with order waiting time increasing by three-four days in the capital as well as in the NCR.
CLICK HERE TO READ MORE
FMCG and Personal Care Brands Going D2C Way to Strengthen Consumer Relationship
Although the fashion and electronics industries have been the forerunners in adopting the D2C model, the FMCG and personal care industries are now following the suit, with the introduction of a slew of digital-first brands.
CLICK HERE TO READ MORE
P&G's Hyderabad facility first in India to go solar
FMCG biggie Procter & Gamble has commissioned its first in-house solar power plant in India at its Hyderabad manufacturing facility.
CLICK HERE TO READ MORE
Boat raises funds from Qualcomm Ventures to power 'Make in India' plans
Consumer tech products brand Boat has received funding from Qualcomm Ventures, the investment arm of Qualcomm. While Boat did not disclose the quantum of funding received, it said the investment will support the brand's plans of rolling out new audio and lifestyle products across geographies as well as building up R&D and manufacturing capabilities.
CLICK HERE TO READ MORE
Consumer durables industry may contract 12-15 per cent in FY21
Godrej Appliances on Thursday said the consumer durables industry is likely to contract 12-15 per cent in 2020-21, compared to the previous year mainly due to the loss witnessed in June quarter and the worst hit was the air conditioner segment.
CLICK HERE TO READ MORE