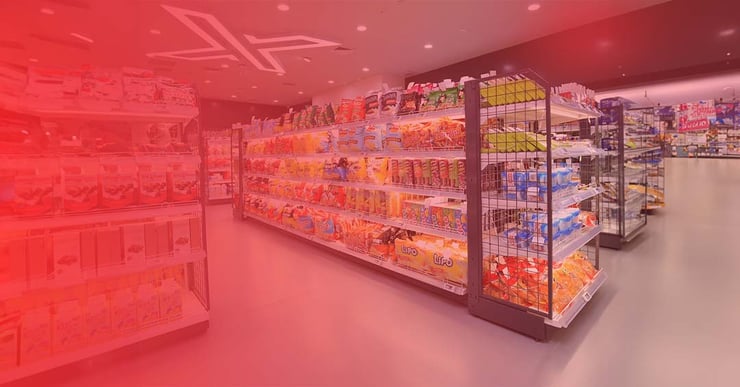 E-commerce shopping has grown exponentially on the back of internet and smartphones penetration, with reach to billions of people & at the same time, providing growth opportunities to a wide range of companies, from major brick-and-mortar players to small cottage industries. E-commerce has opened up a whole new shopping experience, providing millions of consumers access to a wider product assortment and value opportunities and meeting their increasing demand for convenience. Let us go through this week's "Indian Retail at a Glance" to see how retail fared in the past week.
FMCG growth recovers in Asian markets, including India
80% of FMCG sales were from small players. With 300,000 brands operating across Asia, 80% of total sales come from brands ranked outside the top 20 in their categories.
CLICK HERE TO READ MORE
India's retail landscape: A nearly $900 billion market dominated by mom-and-pop stores
India's expanding retail landscape is changing fast, with global and domestic consumer and retail behemoths fighting tooth & nail to woo shoppers, as many choose large, clean supermarkets over-crowded local stores and ordering online.
CLICK HERE TO READ MORE
How 'brands with purpose' can deliver impactful experiential campaigns that promote healthier lifestyles?
Social Marketing helps brands differentiate and drive business whilst taking up a meaningful issue or cause at the forefront. In the age of cutthroat competition, when brands must spar on more than price, social marketing or purpose-driven marketing is an open opportunity to help champion a core issue that directly impacts the society.
CLICK HERE TO READ MORE
How Value-Retailers Are Capturing Consumers Across Bharat?
Retailers have realized that it is necessary to tap the aspirants beyond metros in 8,000+ towns and 6,00,000+ villages in the geography of India. Online retailers delivering in towns and cities have created awareness towards the availability of brands, thus allowing expansion by exploring the unexplored market.
CLICK HERE TO READ MORE
How dark stores are revolutionizing the FMCG market
The FMCG segment has its fair share of unique challenges, especially when it comes to groceries, such as perishability and the requirement for a high number of SKUs. In a regular store, managing SKUs and monitoring the perishability of items can be a tedious process. Dark stores, however, focus primarily on click-and-collect functionality, thereby optimizing SKU management.
CLICK HERE TO READ MORE
Sales grow by 40% as FMCG brands, retailers go digital
Small to medium retailers who adopted the digital route during the pandemic last year have seen sales grow 40% in the last six months.
CLICK HERE TO READ MORE
How Is 2021 Going To Be For The Distribution & Retail Segment?
Retailers have also realized that they need to be prompt with their actions and strategy implementation considering it is a time-sensitive segment and any missed opportunity could lead to the benefit of their competitors.
CLICK HERE TO READ MORE
25 million new jobs in Indian retail sector by 2030
As India leaps forward to become a digitally transformed nation, the country's retail sector has emerged as one of the most dynamically-evolving, rapidly digitising sectors, with the second-largest consumer base in the world, from 5th largest in 2020.
CLICK HERE TO READ MORE
Indian e-commerce to define next decade of consumerisation
India's e-commerce is expected to reach 99 billion dollars by 2024, growing at a 27 per cent CAGR over 2019-24 with grocery & fashion likely to be the key drivers of incremental growth.
CLICK HERE TO READ MORE
Dettol maker rebrands as Reckitt
British consumer goods major Reckitt Benckiser Group has rebranded its corporate identity as Reckitt, replacing the previous "RB" visual identity.
CLICK HERE TO READ MORE
'Shakti' network powers HUL's rural growth
HUL's Shakti network now covers half the villages in rural India, as compared to only 25% four years ago. During these four years, the network has doubled in number. So in 2020, when logistics got disrupted, it was this very network that came to HUL's rescue.
CLICK HERE TO READ MORE
Lenovo sees 40-50% growth in premium category laptops this quarter, expects trend to continue
PC maker Lenovo is expecting its premium category laptops to register a growth of 40-50 per cent in the ongoing quarter over the same period a year ago.
CLICK HERE TO READ MORE
Mars Wrigley partners ANS Commerce for warehousing, delivery fulfilment
The move emerges from the shift that covid has brought about in the way large fast moving consumer goods makers plant to reach shoppers. The pandemic has accelerated the need for shoppers to turn to digital in a big way prompting legacy companies to deepen their presence online.
CLICK HERE TO READ MORE
Xiaomi pledges Rs 100 crore to increase retail reach, generate jobs for 10,000 people
Smartphone maker Xiaomi India announced a Rs 100 crore fund to support expansion of its retail reach in the country.
CLICK HERE TO READ MORE
Bikano aims Rs 2,500 cr biz in packaged food segment in next 3 yrs
Leading packaged snacks brand Bikano is aiming to grow over two-fold to about Rs 2,500 crore in the next three years on the back of market expansion and strengthening of product portfolio.
CLICK HERE TO READ MORE