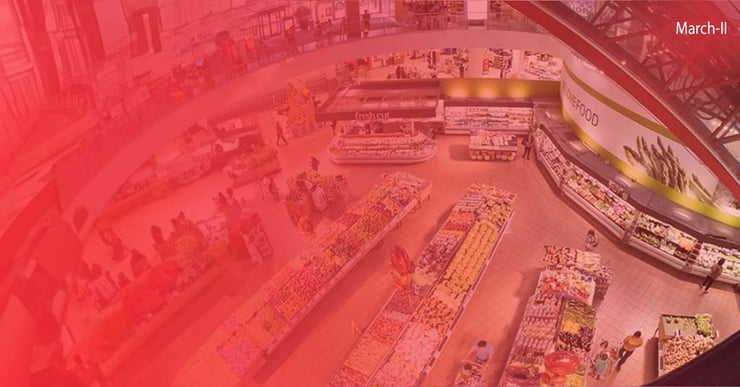 Crisis brings opportunities. This could not have been truer for the FMCG industry in 2020 even as the world grappled with the impact of the Covid-19 pandemic. The sector is learning, innovating & rising from disruptions to put the worst behind and looking forward with optimism and a new-found confidence. Meanwhile, let us go through this week's "Indian Retail at a Glance" and see how retail fared in the past week.
FMCG Retailers Go Omnichannel to Meet the Changing Needs of Consumers
The onset of the COVID-19 pandemic has brought a sea change in the shopping behaviour of many Indians. The prominence of online shopping became a reality as the physical stores were compelled to shut down to prevent the spread of the Coronavirus.
CLICK HERE TO READ MORE
FMCG Brands Reimagining Design and Size
Small packs are easy on consumer pockets with a high reach from rural markets to Tier II and III cities and many FMCG companies are trying to expand their reach for brand penetration through small packs/units.
CLICK HERE TO READ MORE
Consumption driving India's economic revival
The consumption story is catching up with the trend being led by manufacturing, FMCG, chemicals, fertiliser, real estate and construction with a major positive impact on industries such as steel and cement.
CLICK HERE TO READ MORE
Online, offline to drive retail growth
The emergence of the O+O market is seen as a rising collaboration of digitally enabled retail stores, including neighbourhood kirana and modern trade stores, along with e-tail.
CLICK HERE TO READ MORE
COVID-19 is pushing Indians to rely on 'immunity-boosting' brands and home remedies
Indians are swallowing immunity boosters in the wake of the pandemic in whichever form, homemade concoctions or readymade products, boosting FMCG immunity portfolio unit sales by 13.5% in 2020 from just 3.9% in 2019.
CLICK HERE TO READ MORE
COVID-19 crunched 2-3 years of digital adoption in just a few months
COVID-19 crunched 2-3 years of digital adoption in just a few months, and the time spent on smartphones became the key driver of how consumers discover and engage with their favourite brands.
CLICK HERE TO READ MORE
Delhi's female-only liquor store helps women buy drinks in good spirits
Inside a shopping mall, the store provides a safe environment for women to buy alcohol in a city where harassment and discrimination is a daily battle and many women fear going out at night.
CLICK HERE TO READ MORE
On International Women's Day, The Spotlight Is On The 50 Coolest Women In India's Product Ecosystem
Time and again, women product leaders have shown that their unique perspectives can help create great products and product practices.
CLICK HERE TO READ MOREAmazon expands Local Shops programme to 50,000 offline retailers
Since the pandemic, the humble kirana has seen a resurgence, as local retailers stayed open for business during India's strict lockdown. E-commerce firms have shifted gears to focus on a hyperlocal strategy to ensure faster deliveries and offering increased assortments.
CLICK HERE TO READ MORE
Wipro Consumer to launch online-only brands from overseas portfolio in India
Packaged consumer goods company Wipro Consumer Care and Lighting may introduce more online-only brands in India and bring products from its overseas portfolio to online channels in the country.
CLICK HERE TO READ MORE
From You're Worth It to Stand up, how L'Oréal Paris' communication has empowered women over the years
L'Oréal, for half a century, has encouraged women to feel a little more comfortable in their bodies, skin tones and shapes. It has nudged women to look at themselves in the mirror and remind themselves that 'You Are Worth It.' The tagline still remains top of the mind of consumers and has been a clutter-breaking idea.
CLICK HERE TO READ MORE
HUL challenges beauty stereotypes, decides to drop 'normal' from ads, personal care products
HUL has decided to eliminate the word 'normal'--widely used in skin and hair products-- from advertising and packaging of all its personal and beauty care products. The decision comes as HUL plans to demolish stereotypes as consumer activism takes centre stage across the planet.
CLICK HERE TO READ MORE
Future Consumer forays into health snacks, launches Terra Chips in India
Future Consumer, the consumer products arm of Future Group, has forayed into healthy snacking with the launch of Terra Chips in India. This launch of the gluten-free vegetable chips is part of its joint venture with American foods company Hain Celestial.
CLICK HERE TO READ MORE
Xiaomi to bring smart TVs in India under Redmi brand
Xiaomi will soon introduce smart TVs under the 'Redmi' brand in India as it looks to further expand its position in the burgeoning smart TV segment in the country.
CLICK HERE TO READ MORE