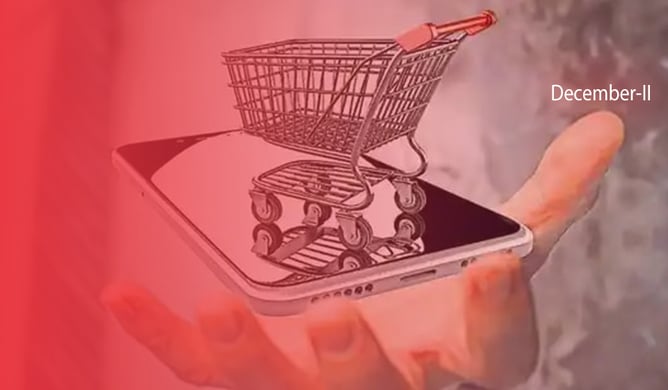 As the world faces economic downturns, India has become a prime target for numerous international consumer products companies. The possible economic growth in India has led firms to introduce new products, invest and increase expenditure. Because of the recent price increases that have had an adverse effect on sales, businesses selling everyday items like toothpaste, soap and biscuits are now offering bigger packages for the same price, or discounts in stores. At the same time, companies have announced downsizing of their workforce and operations in countries like the US and Europe in an effort to reduce costs due to increasing inflation.
This week's edition of "Indian Retail at a glance" highlights How MNCs are planning to go BIG on India next year? Is Inflation for FMCG Segment Cooling Off? Amidst the Global recession will India take the centre stage with most global consumer goods brands?
Inflation for FMCG Segment Cooling Off
The inflationary pressure on the FMCG segment is cooling off a little and volume growth from the rural markets is going to be better.
CLICK HERE TO READ MORE.
FMCG revenues to grow 7-9% in this and next fiscal
Revenue of the fast-moving consumer goods (FMCG) sector will grow 7-9% this fiscal compared with around 8.5% growth in the last, primarily driven by price hikes in the backdrop of rising input costs, according to CRISIL Ratings.
CLICK HERE TO READ MORE.
FMCG firms offer deals to consumers as input prices cool
Many packaged goods companies were forced to raise prices over the last several months as commodities including palm oil, crude as well as packaging turned expensive. However, incessant price hikes have also impacted FMCG volumes.
CLICK HERE TO READ MORE.
FMCG Growth – India to the Fore
Sometimes the industry perspectives do not add up. And this is one such occasion where the global FMCG majors appear to be gung-ho about growth prospects in India, especially in the wake of the digital revolution that appears round the corner via ONDC.
CLICK HERE TO READ MORE.
FMCG Giant Dabur To Enter Feminine Care Market In India
India's leading FMCG company Dabur reportedly plans to enter India's feminine care market with its new brand Fem. With this step, Dabur plans to compete with major players in this market bringing a product that is not just cost-effective but also superior.
CLICK HERE TO READ MORE.
Consumer Firms Bet On Winter Lotions To Honey To Beat Demand Slump
Sales of soaps-to-staples declined 15.3% last month over October and fell 2.7% over a year earlier. The retail intelligence firm attributed it to inflation and lower stocking by brick-and-mortar stores as demand failed to sustain after the festive season in parts.
CLICK HERE TO READ MORE.
Consumer MNCs plan to go big on India next year
Amid global demand headwinds and layoffs, nearly a dozen multinationals including Nestle, PepsiCo, Pernod Ricard, Mars-Wrigley, Coca-Cola, Mondelez, L'Oreal and Anheuser-Busch InBev are doubling down on India with higher investment, increased spending and selective hiring in their annual operating plans for 2023, having identified it as among the few markets that are growing.
CLICK HERE TO READ MORE.