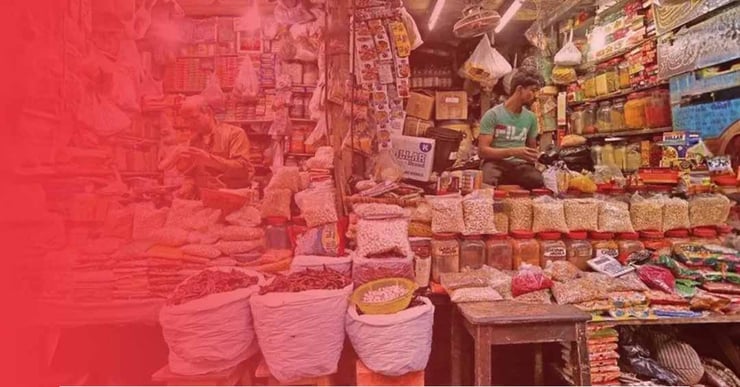 As the festive season gains momentum, there is a palpable sense of optimism in the air. The current trajectory suggests that retailers are well-poised to conclude this festive season on a triumphant note, boasting a robust double-digit growth in sales when compared to the same period in the previous year. This resurgence in FMCG sales not only underscores the resilience of the industry but also reflects the adaptability of consumers in response to the evolving landscape of entertainment and shopping preferences. One notable factor contributing to this resurgence in FMCG sales was the heightened demand for large-screen televisions. As the cricket World Cup took center stage, people's preferences leaned towards watching this highly-anticipated sporting event on grand screens. This shift in consumer behavior further propelled sales, particularly in the electronics and entertainment segments.
This week's edition of "Indian Retail at a glance" shares insightful articles on How Rural kiranas power September sales? Why FMCG Supply Chain Management is Embracing the Digital Revolution? World Cup effect on lifting FMCG consumption?
Rural kiranas power September sales
Sales of fast-moving consumer goods (FMCG) witnessed significant recovery in September after enduring a double-digit decline in August, according to data furnished by Bizom.
CLICK HERE TO READ MORE.
Embracing the Digital Revolution: A Paradigm Shift in FMCG Supply Chain Management
In the exciting era of technological advancement, the Fast-Moving Consumer Goods (FMCG) sector is undergoing a transformative supply chain revolution. The infusion of digital technologies has ushered in a new era marked by exceptional agility, transparency, resilience, and adaptability within this industry.
CLICK HERE TO READ MORE.
Early Festive Cheer, World Cup effect lift consumption
Demand for consumer goods and personal care products has picked up ahead of the peak Diwali shopping season, after clocking dull sales in the first few months of the fiscal year.
CLICK HERE TO READ MORE.
Nestle to report net profit growth in Q3, poised to outbeat FMCG peers
A number of companies are slated to release Q2 earnings results today including top fast-moving consumer goods (FMCG) companies Nestle India, Hindustan Unilever (HUL), and ITC. IT company Coforge released its quarterly results early this morning.
CLICK HERE TO READ MORE
The Classic pivot: Charting ITC's FMCG growth story
Once the butt of jokes in Dalal Street circles, 113-year-old ITC has turned a new leaf in recent years, as its strategy to derive higher revenue from its consumer business is bearing fruit, bit by bit.
CLICK HERE TO READ MORE.
Why HUL Has Limited Triggers To Beat Peers
India's largest consumer goods maker, Hindustan Unilever Ltd., has been among the favourite picks in the fast-moving consumer goods sector. Yet, it has lagged peers in the past year. Analysts say upside may still be capped with limited triggers in the near term.
CLICK HERE TO READ MORE.
HOW MYNTRA'S KIRANA NETWORK IS POWERING THE BIG FASHION FESTIVAL
The festive season is an opportunity for the industry to gain momentum, accelerating the overall growth of the ecosystem and benefiting all those associated with such high decibel events.
CLICK HERE TO READ MORE