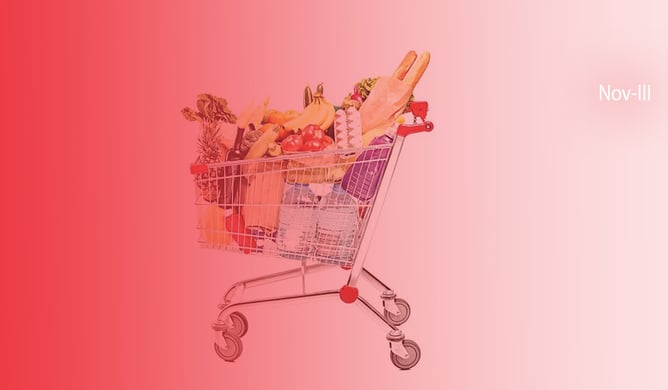 India's Fast Moving Consumer Goods (FMCG) sector has experienced notable growth, thanks to its diverse and expansive consumer base. The surge in demand is particularly pronounced in rural areas, which have emerged as significant contributors to the overall expansion of the industry. To gain a deeper understanding of this phenomenon, let's explore the dynamics of the FMCG sector in rural India. In Q2FY24, the FMCG industry demonstrated a robust 9 percent year-on-year (Y-o-Y) growth in terms of value, accompanied by an 8.6 percent increase in sales volumes. This positive trend in consumption patterns is evident across the entire nation. Specifically, rural markets exhibited a noteworthy 6.4 percent Y-o-Y growth in volumes during this quarter, underlining the sector's increasing traction in these regions.
This week's edition of "Indian Retail at a glance" shares insightful articles on What factors Driving FMCG Demand in Rural India? Had FMCG sales pick up on festival boost in October?
Unmasking the Factors Driving FMCG Demand in Rural India
The rural consumer base in India, which constitutes about 70% of the total population, plays a pivotal role in driving the FMCG industry. With an improvement in living standards, rural India has witnessed a shift in consumption patterns, leading to a higher demand for FMCG products.
CLICK HERE TO READ MORE.
FMCG sales pick up on festival boost in October, shows Bizom data
Sales of fast-moving consumer goods (FMCG) saw an uptick in October as kiranas, or mom-and-pop stores, stocked up ahead of Diwali, according to the data by retail intelligence firm Bizom.
CLICK HERE TO READ MORE.
Britannia Delivers Strong Q3 Performance with Rs 4,370 cr in Sales
Britannia has reported consolidated sales of Rs 4,370 crore for the quarter ending September 30, 2023, showcasing a 1 percent growth over the previous year and an impressive 23 percent growth over the past 24 months.
CLICK HERE TO READ MORE
Open to acquisitions in health, personal care categories: Dabur Chairman
Indian fast-moving consumer goods (FMCG) major Dabur India has a "war chest" of Rs 7,000 crore ready for any future acquisitions in categories the company currently operates in.
CLICK HERE TO READ MORE.
Hindustan Unilever to help kirana stores compete with big cos via ONDC
Hindustan Unilever (HUL) announced that it will assist in the onboarding of nearly 1.3 million kirana stores onto the central government's Open Network for Digital Commerce (ONDC) network, reported The Economic Times (ET). This will allow kirana stores to compete with e-commerce and quick-service grocery retailers.
CLICK HERE TO READ MORE
Coca-Cola cracks the most elusive market in India - the country's hinterlands
In a landscape where some consumer goods companies grapple with sluggish rural demand, Coca-Cola India stands out, experiencing faster growth in rural markets compared to urban counterparts.
CLICK HERE TO READ MORE.
Home-Grown brand, Indira Foods all set to take on a burgeoning FMCG market
Indira Foods, the home-grown company famous for it's ready to Cook / Ready to eat millets (ragi) and various pastes and food formulations, using very Indian natural spices with zero additives, has announced its ambitious expansion plans.
CLICK HERE TO READ MORE.