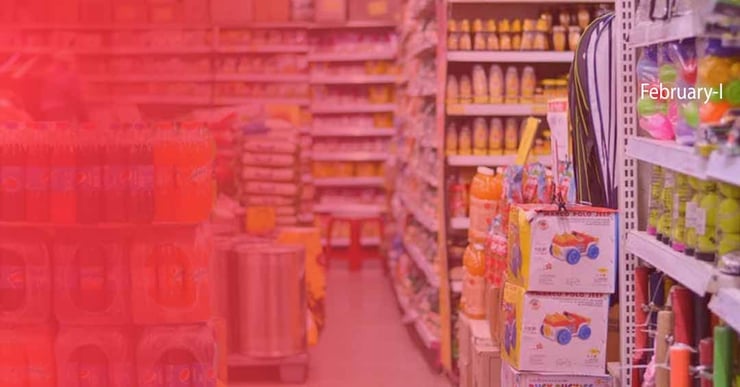 During the current budget, the government announced the transformation of the Indian Institute of Millet Research- Hyderabad into a centre of excellence for furthering creativity that will support businesses such as Slurrpfarm in enabling acceptance and realizing India's millet aspirations. As one of the main steps addressed in the initial financial budget of the new normal was the increased investment in the rural area and decrease in income tax slabs, many Fast-Moving Consumer Goods companies have faith that it will stimulate extra utilization.
This week's edition of "Indian Retail at a glance" highlights How FMCG industry reacted to Budget? & How FMCG industry expects recovery in rural growth?
Retail Budget 2023: FMCG companies support government's step to make India a global millets hub
Presenting her fifth budget, FM Nirmala Sitharaman has shown determination to drive measures that can increase the popularity of millets in the domestic as well as global market.
CLICK HERE TO READ MORE.
FMCG industry expects recovery in rural growth, consumer spending on track
The FMCG industry expects the government's special focus on the agriculture sector in the Union Budget 2023-24 would help to regain rural growth while providing more disposable income to the middle class and reviving volume growth.
CLICK HERE TO READ MORE.
FMCG players elated with Union Budget 2023, say it will lead to increased consumer spending
Finance Minister Niramala Sitharaman unveiled the Union Budget in the Parliament and announced several reliefs for different categories on Wednesday. Several key players from the FMCG sector have welcomed the Budget and emphasised that they are hopeful of witnessing an improved consumer spending this year.
CLICK HERE TO READ MORE.
Why it is important for FMCG companies to win back lost rural ground
More than 2 years after the lockdown struck, the fast-moving consumer goods category is on the road to recovery, even as the pressure of inflation continues.
CLICK HERE TO READ MORE.
Reliance to bring Sri Lanka's Maliban biscuit into India
Reliance Consumer Products Ltd (RCPL) said it has entered into a strategic partnership with Sri Lanka headquartered Maliban Biscuit Manufactories to launch their brand in India. CLICK HERE TO READ MORE.
India's P&G Hygiene and Health Care posts dip in Q2 profit as costs jump
India's Procter & Gamble Hygiene and Health Care Ltd on Tuesday reported a drop in second-quarter profit, hit by higher cost of commodities and a slowdown in the broader fast-moving consumer goods (FMCG) sector in the country. 
CLICK HERE TO READ MORE.
ITC shares hit fresh all-time high ahead of Q3; surge 11% in 4 sessions
FMCG major scaled a fresh record high even after the government raised duty on cigarettes by 16%, which will make smoking more expensive. The mega-cap heavyweight got a lift as investors remained optimistic about the company's third quarter earnings, which is slated to be released on February 3.
CLICK HERE TO READ MORE.