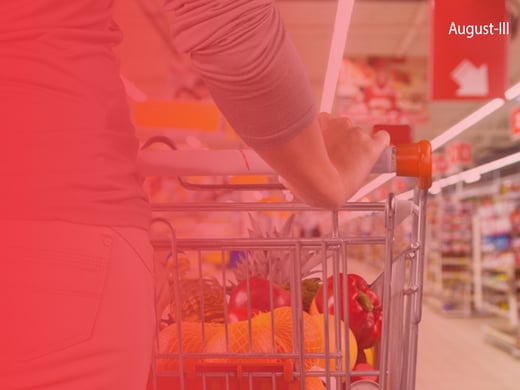 While the Pandemic has undoubtedly affected the lives of millions globally, industries remain positive while working on new approaches to reach consumers. Most of the retailers continue to face difficulties but at the same time are positive about the change. Cataloguing the ups and downs in retail, here comes another edition of our "Indian Retail at a Glance". Continue reading to see how retail scored in the past week.
India's packaged food market is poised to double
The ready-to-eat and convenience food market has literally exploded over the past 3-4 months. Major players in the ready-to-eat space expect revenues to double year-on-year if this growth trajectory continues.
CLICK HERE TO READ MORE
Consumer sentiment improving, revival stronger among lower-income segments, small cities
Consumer sentiment has started to get "a little better", even though the COVID-19 pandemic has continued to worsen.
CLICK HERE TO READ MORE
According to TRA Whitepaper, 65 pc consumers express positive buying sentiment around Diwali'20
Medium consumer buying priority included personal accessories, cars, laptops and kitchen appliances, while low consumer buying priority zone includes travel, health insurance and home renovation.
CLICK HERE TO READ MORE
How India's Women-Focussed D2C Brands Are Leveraging Product Innovation To Challenge FMCG Majors
In today's thriving digital economy, the relationship between brands and consumers is fast-changing personal, resulting in the emergence of direct-to-consumer or D2C brands that are fast taking over the market.
CLICK HERE TO READ MORE
Customers vocal for local, finds survey
Retailers estimate that around 30% of the customers have stuck to local brands.
CLICK HERE TO READ MORE
Opinion | Convergence of physical and digital: A new dawn of retail in India
With covid-led contingencies challenging the modus operandi of most sectors, a few businesses, like the humble neighbourhood stores, emerged as key support system for consumers.
CLICK HERE TO READ MORE
Retailers Association of India welcomes RBI governor's announcement of one-time restructuring of loans
The Retailers Association of India (RAI) on Thursday welcomed the move by the Reserve Bank of India (RBI) to permit a one-time restructuring of loans, amid the ongoing COVID-19 crisis.
CLICK HERE TO READ MORE
Brands celebrate positive vibes to beat covid blues
Even after the phased Unlock, the burst of feel-good advertising endures. Companies continue to back content or campaigns that talk of positivity.
CLICK HERE TO READ MORE
Degrowth rates peak, lockdown relaxations ineffective for retail
The relaxations provided by Government in May 2020 were ineffective as retailers across the board continued to lose. Large size retailers (>300cr sales) in the food and grocery segment have witnessed 86 percent degrowth in business, while the non-food and grocery segment has seen a 75 percent degrowth compared to last year.
CLICK HERE TO READ MORE
These platforms are taking brick-and-mortar 'kirana' stores online
During the Covid-19 induced lockdown, the neighbourhood kirana stores faced challenges that affected their business significantly. The local stores faced a mass reduction in footfalls, which directly affected their sales due to restrictions in movement.
CLICK HERE TO READ MORE
Consumer confidence key for retail
Confidence in the minds of customers is most important for them to come out, shop and visit malls.
CLICK HERE TO READ MORE
How Dabur became agile and fearless
From rolling out online-only products to fast-tracking launches and entering new categories, how Dabur has donned an aggressive avatar to beat the pandemic.
CLICK HERE TO READ MORE
Mondelez India unveils limited-edition Cadbury Unity Bar, celebrates the spirit of India
Mondelez India unveiled its special limited-edition Cadbury Unity Bar to celebrate the spirit of India on our 74th Independence Day. CLICK HERE TO READ MORE
Del Monte witnesses 2-fold jump in sales of sauces, pasta during lockdown
The 'in house consumption' has gained relevance during the pandemic and Del Monte product range such as pasta, olive oil has doubled and registered volume growth between April-July as the company augmented its retail distribution network through e-commerce and new-age distribution channels to deliver the products at consumers' reach.
CLICK HERE TO READ MORE
According to Amul, the lockdown wasn't sudden & it was prepared for the eventuality
During Covid, food consumption hasn't gone down. In fact, it has increased. While it was challenging, Amul made sure they faced no disruption in production, supply and transport. In Gujarat, they started getting 17-18% more milk during lockdown.
CLICK HERE TO READ MORE
Asia's Richest Man Is on a Shopping Spree in Race Against Amazon
The Indian billionaire is looking to acquire several local online retailers to help expand product offerings, people familiar with the matter said, as he races to build his e-commerce platform and compete against Amazon.com Inc.
CLICK HERE TO READ MORE