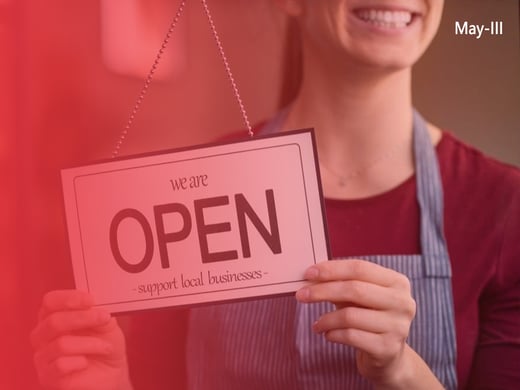 Lockdown 4.0 has begun. Most of India, with the exception of some metros and states, is ready to get back in action. With a slew of revival measures and new industrial norms, come take a peek into how Indian Retail has been working in the last week to get its mojo back.
The real meaning of going vocal for local
Kiranas are not only the backbone of the supply chain management but also an essential part of our economy.
CLICK HERE TO READ MORE
How Maggi, KitKat supplies didn't stop during lockdown; why coronavirus failed to hurt Nestle
The maker of Munch and KitKat range of chocolates has reported a double-digit domestic sales increase with its Maggi and chocolates portfolio driving growth.
CLICK HERE TO READ MORE
Google to launch a program in India to connect offline retail inventory with search engine
Google has started a pilot where offline stores in India can list products available at a store level on a real-time basis in the search page itself.
CLICK HERE TO READ MORE
Consumers footfall increase, average basket value goes up at retail stores in lockdown 3.0
Leading retailers have witnessed an increase in the number of footfalls along with a 'significant' jump in average purchase value in the third phase of the lockdown.
CLICK HERE TO READ MORE
Consumer, White goods to lead a revival of the economy
FMCG & white goods are likely to lead the revival of the economy according to a survey by VMR.
CLICK HERE TO READ MORE
Government paves the way to restart markets selling non-essentials
The Union government on Sunday signaled shops in markets and market complexes selling non-essential goods can now open up outside of containment zones.
CLICK HERE TO READ MORE
OrderMe by Patanjali Ayurveda is the latest entrant into the Indian E-Commerce space
Global e-com giants Amazon & Walmart will have a new contender to face off in the Indian market in the form of OrderMe by Patanjali.
CLICK HERE TO READ MORE
What's in the online cart?
What are the "new essentials" that the National Capital Region is ordering online?
CLICK HERE TO READ MORE
Malls draw up plans to live with coronavirus
Malls are setting up pandemic response teams, isolation centers for those who may be infected, etc.
CLICK HERE TO READ MORE
Time for Indian retailers to set up dark stores?
Dark stores are set up typically near high demand neighborhoods but off the high street. For some segments, like apparel and durables, they may as well be set up on the city outskirts.
CLICK HERE TO READ MORE