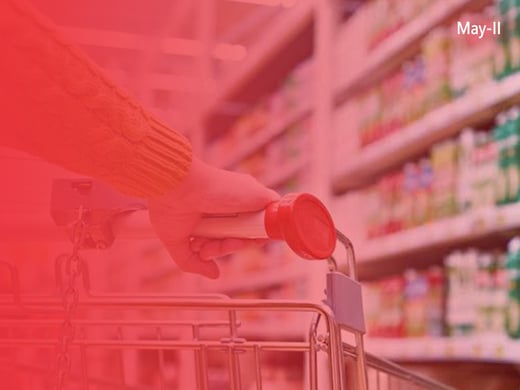 Indian Retail has got the green light for production. Some non-essential sectors have begun operations too. With a semblance of free movement in non-containment zones, Indian Retail is getting its act back together. Let's take a look at what happened this past week.
Slow start to retail opening
According to officials, retail demand started to build up gradually. In some cases, people were completing pre-lockdown transactions and other new ones.
CLICK HERE TO READ MORE
E-commerce orders gradually scaling back to pre-lockdown levels
Post easing of restriction on sales of non-essential items, industry executives say that e-commerce is gradually getting back to the pre-lockdown level.
CLICK HERE TO READ MORE
Dishwashers, refrigerators, big screen TV becoming preferred appliances
Big screen TV sets, large volume refrigerators, home theatres, and dishwashers are now gaining traction, thanks to CODID-19 induced lockdown, according to home appliances and consumer electronics manufacturers.
CLICK HERE TO READ MORE
Workers refusing to join factories post lockdown may face pay cuts, disciplinary action
Gujarat, Madhya Pradesh, Karnataka, and Uttar Pradesh are considering strict enforcement.
CLICK HERE TO READ MORE
Distributors: Chips, Biscuits Stocks low
Distributors of FMCG products say that there could be a shortage of biscuits, noodles, and chips in the next 10 days.
CLICK HERE TO READ MORE
Spirit makers look to boost the reach
Top spirits makers are in discussion with state excise departments and online food delivery giants.
CLICK HERE TO READ MORE
With little to cheer, companies cut festive spend
Production cuts will be most in premium product portfolio as companies expect consumers to curb discretionary spending as the impact of the Covid-19.
CLICK HERE TO READ MORE
Grooming products flying off online shelves
Demand for razors, epilators, trimmers, and hair color soars on e-commerce platforms during the lockdown.
CLICK HERE TO READ MORE
HUL expected to bounce back post-GSK, Horlicks stake sales
GlaxoSmithKline and Horlicks have sold 5.7 percent equity of HUL worth Rs 26,000 crore on Thursday to domestic and foreign investors.
CLICK HERE TO READ MORE
FMCG companies open links with retailers to ensure supply
Companies have launched teleservices and even dedicated apps that let shopkeepers place orders.
CLICK HERE TO READ MORE
Corona, Kirana and the convergence model for Indian retail
Will India's retail sector witness collaborations between organized retailers and the neighborhood stores?
CLICK HERE TO READ MORE