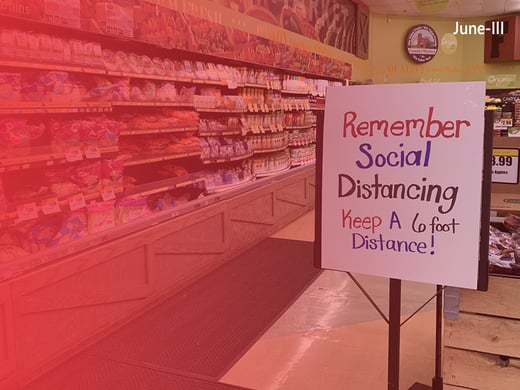 Consumption patterns and behaviours have undergone a change due to COVID 19. With the unlocking in its third week, patterns and strategies continue to evolve. Retailers are increasingly resorting to digital innovations to adapt for the better. While there have been hiccups, some FMCG companies have seen their sales shoot up. Many have diversified their product portfolio too. Let's take a look at all the innovations and recalibrations that took place in Indian Retail this past week.
Retailers turn to WhatsApp bookings, home deliveries to revive demand
Offline retailers that have seen footfalls slump at their stores, even as India re-opened for business, are resorting to WhatsApp bookings and assisting shoppers with virtual tours of their stores for ordering goods.
CLICK HERE TO READ MORE
The new retail paradigm is forcing retailers to redefine core strategies
In India, the two-month plus lockdown has affected consumption in unique ways leading to new strategy adoption by retailers.
CLICK HERE TO READ MORE
Five key factors that will determine the shape of the FMCG sector in the months ahead
High rates of reverse migration are likely to yield a rise in rural consumption in the coming months.
CLICK HERE TO READ MORE
Tata Consumer Products to focus on digital transformation
TCP is innovating with new marketplace models and expects a larger play in the foods and beverages businesses, where TCPL is expanding its portfolio and sharpening capabilities for the longer term.
CLICK HERE TO READ MORE
Godrej ramping up health and hygiene portfolio
Godrej Consumer Products Ltd (GCPL) is ramping up its health and hygiene portfolio with new products such as face masks, disinfectant sprays, wipes, and others under its "Protekt" brand.
CLICK HERE TO READ MORE
Lockdown impact: Maggi sales shoot up 25% as consumers stockpile instant noodles
Maggi, India's go-to option for instant noodles, saw a significant boost in sales amid the coronavirus lockdown.
CLICK HERE TO READ MORE
At FMCG companies, production crosses pre-COVID for food & hygiene goods
HUL, ITC, Parle Products, Britannia, Marico are expanding production beyond pre-COVID levels.
CLICK HERE TO READ MORE
Soap business set to boom in coronavirus aftermath; other hygiene items also promising, says HUL
Soap business presents a massive business opportunity in the aftermath of coronavirus as more and more people adopt hygiene practices and become conscious of health concerns.
CLICK HERE TO READ MORE
Lockdown helps to revive the TV market after two years; 2-3 times surge in demand for large screen
After two years of declining sales, overall television sales have grown over 35-50% since last month when markets opened up, with the large screen models reporting 2-3 times growth.
CLICK HERE TO READ MORE
Unlock 1.0: Impact on the retail industry
Business models are bound to change and new models would definitely evolve.
CLICK HERE TO READ MORE
Decoding the online shopping landscape in India
E-retail in India has the potential to grow on a massive scale, thanks to the cheap and ubiquitous mobile data (enabling nearly 1 billion internet users by 2030).
CLICK HERE TO READ MORE