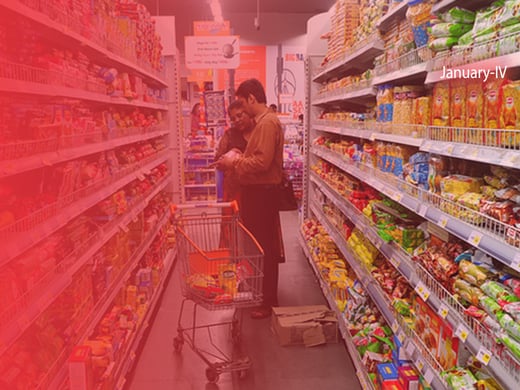 For Fast Moving Consumer Goods (FMCG) traditional brands, the pandemic has been an absolute bloodbath for the last eighteen months or so. From supply chains to stores being shut down, the brands had to face all sorts of retail challenges over the period. Demand for home care products fell as consumers went easy on purchasing hygiene products There was close to a double-digit drop-in sale in the opening two weeks driven by a drop in active kirana outlets
This week's edition of "Indian Retail at a glance Glance" talks about how D2C brands found this as a good moment to foray into the FMCG market. Rise of Immersive Retail Experience with digital formats dominating the shoppers' retail journey in the past 2 years.
Changing Paradigms in the Indian Consumer Goods Sector: Imperatives for CPG Companies
India's consumer goods industry is at an inflection point. The heterogeneity and diversity in the Indian CPG market are challenging and recent structural changes are creating tectonic shifts in market dynamics. This blog is an attempt to put the spotlight on the changing paradigms in the industry and the imperatives for CPG companies.
CLICK HERE TO READ MORE
FMCG players Driving the Growth with D2C platforms
Meanwhile, the rapid adoption of the Internet and digital marketing strategies, saw brands offering niche and customized options for customers, which eventually raised the demand of D2C (Direct to Consumer) brands in the FMCG category. The brands also took this advantage seeing the market size.
CLICK HERE TO READ MORE
Top Emerging Trends that Retailers Need to Embrace in 2022
The past two years have brought about a significant shift in the retail industry, with retailers embracing resiliency during the changing times and adapting to the industry's evolving trends. Amidst all the changes, one thing that has remained constant is consumers' desire for a seamless and personalized shopping experience.
CLICK HERE TO READ MORE
Digital and sustainability are mega trends that will shape the post-pandemic future: ITC Chairman Sanjiv Puri
ITC Chairman Sanjiv Puri is not averse to the idea of demerger of the conglomerate's fast moving consumer goods (FMCG) business. Puri is also open to the idea of listing the company's information technology (IT) businesses — ITC Infotech — as long as it creates sustained value for shareholders.
CLICK HERE TO READ MORE

Charts indicate mixed outlook for FMCG majors; HUL, ITC better placed
The country's largest fast-moving consumer goods (FMCG) major, Hindustan Unilever posted better than expected performance for the quarter ended December 2021 (Q3FY22) on all fronts - sales, operating profit, and net profit. The company reported a 18.6 per cent YoY growth in Q3FY22 net profit at Rs 2,297 crore when compared with Rs 1,937 crore in the corresponding quarter a year ago.
CLICK HERE TO READ MORE
Packaged goods sales dip amid covid curbs
Data from retail intelligence platform Bizom, which tracks sales across 7.5 million retail stores, showed sales in active kirana outlets declined 8.4% during this period. Active kiranas refer to fully operational outlets.
CLICK HERE TO READ MORE
Adapt to the new kirana zamana
India has about 12 million kiranas that dominate the grocery retailing landscape with over 80% share. Despite the advent of B2C (business-to-consumer) ecommerce and modern trade, these neighbourhood stores have adapted, and continue to thrive, in the food and grocery market.
CLICK HERE TO READ MORE
Amazon offers financial assistance to Future Retail, warns against selling stores
Ecommerce major Amazon has offered financial assistance to cash-strapped Future Retail with which it is embroiled in a legal battle over the latter's planned sale of assets to Reliance Industries for nearly Rs 25,000 crore. The offer for help has a rider, though. The US firm has warned Mumbai-based FRL not to sell any of its retail stores without Amazon's consent.
CLICK HERE TO READ MORE