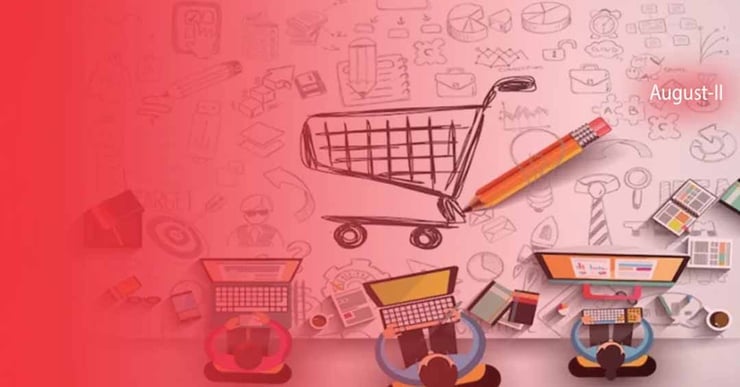 After two years of muted festive season due to Covid-19 and the impact on demand in the first half of the current fiscal, fast moving consumer goods (FMCG) companies are banking on this year's festive season to rev up volumes. Companies expect growth of around 15-20% during the upcoming festive season that starts from Raksha Bandhan. In last quarter, Indian FMCG sector grew in double digits as Manufacturers and retailers are keeping a close eye on changing consumer preferences and managing their portfolio accordingly.

This week's edition of "Indian Retail at a glance" highlights How FMCG firms are planning to boost Sales volume during festive season? How FMCG packs would contribute to revive the rural market? and What propelled FMCG Industry to grow again in double digits?
FMCG firms hope festival season will boost volumes
The FMCG firms are looking at various distribution and multimedia channels to tap into the consumer demand at all levels and put their new launches across the customer base.
CLICK HERE TO READ MORE.
FMCG packs are back on urban India's shopping lists
Demand for packaged fast moving consumer goods (FMCG), including soaps, toothpaste, food and beverages, revived in the June quarter in urban markets, as consumer sentiment turned positive after two quarters of decline.
CLICK HERE TO READ MORE.
FMCG Value growth back in double digits
A price-led boost has propelled the FMCG industry to grow again in double digits at 10. 9% in terms of value in quarter ending June 2022 as against 6% in the preceding January-March period.
CLICK HERE TO READ MORE.
FMCG Volumes recover in urban India in April-June, decline in rural
Consumption of fast-moving consumer goods (FMCG) like packaged foods, beverages, and toiletries revived in the April-June quarter in urban markets but was negative in rural India as people opted for smaller packs.
CLICK HERE TO READ MORE.
Parle Still the leading FMCG company in India
According to Kantar India's annual Brand Footprint study, locally produced biscuit brand Parle continued to be the most popular brand among fast-moving consumer goods in India in 2021, topping the rankings for the eleventh year in a row. Based on Consumer Reach Points (CRPs), the report assessed the FMCG brands that consumers will choose in 2021.
CLICK HERE TO READ MORE.
Pet Care Industry Grows After Pandemic; Attracts FMCG Companies
Increased pet adoption after the pandemic is driving the Indian pet care industry to touch Rs 10,000 crore by 2025, prompting FMCG majors like Nestle India and Emami to enter the sector. The pet food market is currently around Rs 4,000 crore and is expected to grow significantly over the next five years.
CLICK HERE TO READ MORE
FRIMLINE LAUNCHES INDIA'S 1st ORAL CARE RANGE FOR PREGNANT WOMEN
To inspire healthy oral hygiene habits by creating awareness and access to oral care products, Frimline has expanded its oral care range with the launch of Dente91 Mom - Oral Care Range specially created for pregnant women.
CLICK HERE TO READ MORE
FMCG major Dabur's net profit increases by 0.6 per cent
Homegrown FMCG major Dabur India on Thursday reported a 0.6% increase in its consolidated net profit at Rs 441.06 crore for the quarter ended June 2022, as compared to Rs 438.30 crore in the same quarter a year ago.
CLICK HERE TO READ MORE.