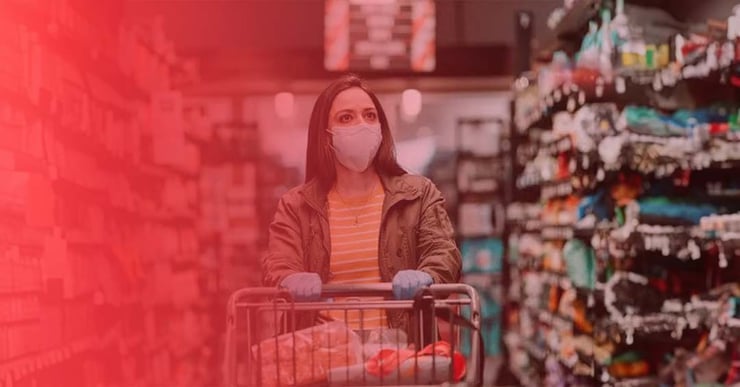 In Wake of Covid 3rd wave several states have announced night curfews. In Delhi, shops in all markets are open on odd and even days though essential shops in all states continue to remain open. Brands are strengthening their supply-chains to ensure there is no disruption in the event of restrictions due to a third wave of the pandemic. Coupled with Technology Brands are accelerating growth in the e-commerce industry. Improving the overall efficiency by reducing the cost is one of the main things businesses are looking forward to during the pandemic.
This week's edition of "Indian Retail at a glance Glance" talks about FMCG plan of action to deal with 3rd wave of Pandemic despite of inflation remains a worry. Technology can be a great enabler for the unorganized retail sector and How consumer goods makers have been grappling with rising costs.

Shoppers gear up for a shock as goods makers likely to up rates
Shoppers should gear up for more sticker shock as industry watchers expect consumer goods makers to increase prices yet again this quarter to cope with higher commodity costs.
CLICK HERE TO READ MORE
How digital technology is empowering the kirana stores
India has the most unique retail sector in the world. This uniqueness emanates from two aspects- Organised or modern trade, which has taken most developed by storm still accounts for a very small percentage of India's retail market.
CLICK HERE TO READ MORE
FMCG firms ramp up supplies as coronavirus-led curbs return
Packaged goods companies are again ramping up supplies and stocking up products across retail stores and e-commerce channels as covid-linked restrictions crop up in several large states.
CLICK HERE TO READ MORE
FMCG firms brace for third wave of Covid-19
With Covid-19 cases on the rise in India, consumer goods companies, especially those offering food products, are gearing up for a possible third wave of pandemic.
CLICK HERE TO READ MORE
Distributors withdraw protest against HUL: company assures to resolve issues
The standoff between distributors and packaged consumer goods giant Hindustan Unilever over pricing parity between traditional distributors and organised business-to-business (B2B) platforms has been resolved for now, with distributors withdrawing their protest against HUL.
CLICK HERE TO READ MORE
Storyboard18 - 2022 - Definitely, maybe: From the intense fight for customer wallet share to full-funnel marketing for FMCG
Heraclitus popularly said, "The only constant in life is change." On some level, many of us have always subscribed to this viewpoint, but the past year or two made this amply evident. As a people, we embraced change like never before, whether we liked it or not. Our ways of living, working, eating, shopping, and socialising turned on their heads. I don't think it will be off the mark to say that these behavioural changes are here to stay.
CLICK HERE TO READ MORE
ITC Enters Plant-Based Meat Market
Following major progress in the nascent Indian 'plant-based meats' landscape in the second half of 2021, the first major Indian FMCG company has announced a foray into the burgeoning sector.
CLICK HERE TO READ MORE
Inflation to remain a worry but demand will be strong in 2022: FMCG players
Fast moving consumer goods (FMCG) makers are bracing for inflation in key inputs in 2022, but expect it to be offset by strong demand for their products in the coming year.
CLICK HERE TO READ MORE
Colgate Initiates Talks With FMCG Distributors Boycotting Its Products
Leading oral care company Colgate-Palmolive said it has initiated talks with distributors who are boycotting some of its products in Maharashtra and a few other states over issues of price disparity between the traditional distributors and organised business-to-business channel.
CLICK HERE TO READ MORE