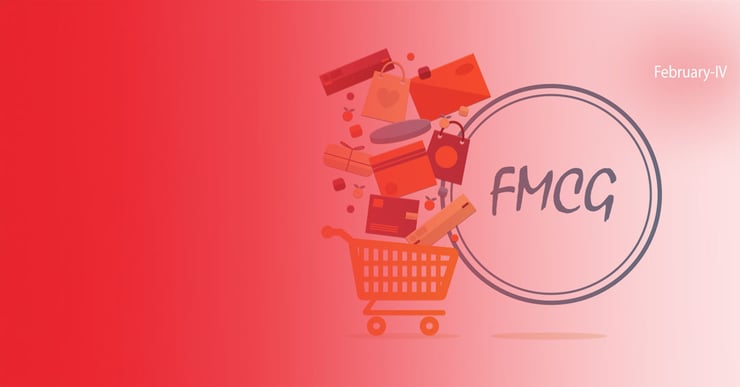 "Indian Retail at a Glance"
FMCG industry is bouncing back from the impact of third wave of COVID. It has evolved manifolds is exhibiting stupendous resilience to create more value in future. There are many reports predicting double digit growth in 2022 as FMCG companies are re-inventing their strategies for customer acquisition, retention and value propositions. The industry also focusing upon digitalisation, investing in building capability in e-commerce and Direct-to-Consumer channels. The Sector also expecting a revival in demand and consumption, especially from out of home, a channel that was severely impacted after the pandemic.
This week's edition of "Indian Retail at a glance Glance" explains How FMCG sector can leverage 3PL services? What are the surprise elements added by companies to make Holi more special this year? Which company's results stood out in terms of profits and growth and how Indians will handle the continued price hike by a FMCG giant.
More smaller packs of staples sold in 2021
Indians are buying more packs of daily essentials and groceries, but volumes remained unchanged as consumers opted for smaller sizes as rising inflation pressured monthly budgets of families.
CLICK HERE TO READ MORE
How FMCG sector can leverage 3PL services to optimize operations
The Indian consumer behavior patterns have largely transformed over the past few years, with accelerated changes brought on by the pandemic. While technology remained the key disruptor, the rise of modern retail, and higher penetration of key FMCG brands into the rural and semi-urban parts of India, marked a shift in the Indian FMCG sector growth story.
CLICK HERE TO READ MORE
Consumer goods companies bet on a sweet and colourful Holi
Consumer goods makers selling cooking oil, packaged snacks, sweets, frozen food, ice cream, and beverages are betting big on Holi to add a dash of much-needed colour to their business after two consecutive washouts the past couple of years due to significant mobility curbs during the pan-India spring festival.
CLICK HERE TO READ MORE
Nestle India Rating: Buy | Results stood out in the FMCG segment
Volume-led resilient growth in Q4 stands out in FMCG peer group. (i) Domestic sales growth at 9.2% y-o-y was driven by 8% growth in volume and mix. (ii) Gross margin contracted by -205bps due to high input costs, but Ebitda margin was up by 51bps to 23.2% on the back of cost controls. (iii) Company expects commodity inflation to persist in the coming quarters. (iv) Overall, net sales and Ebitda were up 8.9% and 11.4% y-o-y, and were largely in line with consensus.
CLICK HERE TO READ MORE
Dabur ties up with Indian Oil for direct-to-home sales
Packaged consumer goods and ayurvedic products maker Dabur India has tied up with energy provider IndianOil in an exclusive partnership, which will provide direct access of Dabur's products to around 14 crore Indane LPG consumer households across India.
CLICK HERE TO READ MORE
India's Biggest FMCG Company Has Again Increased Price Of These Products: 2nd Hike In 60 Days
Hindustan Unilever is India's biggest and most consumer goods company. The firm is very fast-moving. The firm has now decided to do another round of price hiking across all it's product categories. This action is being undertaken in order to deal with the significant impact of the raw material prices rising.
CLICK HERE TO READ MORE
Nestlé is resilient but a storm of inflation looms
Nestlé India Ltd's December quarter (Q4CY21) results were decent on many counts. Domestic revenue growth stood at 9.2% year-on-year (y-o-y) to ₹3,560 crore, accounting for 96% of its total operating revenue. It had reported 10% growth in Q4CY20.
CLICK HERE TO READ MORE
High Inflation Likely To Bite Into FMCG Sector's Volume Growth In 2022
With Covid-19-induced disruption changing income trends in India, coupled with retail inflation at above 6 per cent, people are expected to cut down their expenditure on non-essential groceries in the coming quarters.
CLICK HERE TO READ MORE