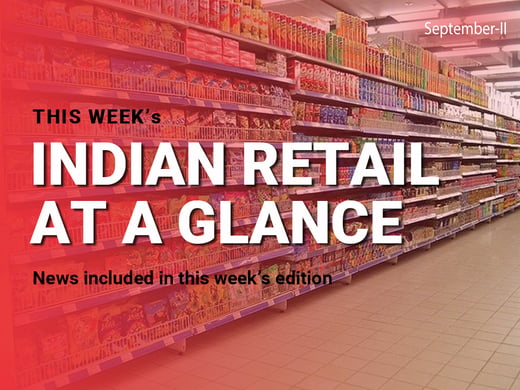 While inflation continues to bother consumers and brands both, marketers are trying their best to boost their festive sales. Brands witnessing a strong uptick in demand with the onset of festivities & supply chains are fully geared to ensure availability of a wide range of products. The FMCG firms are looking at various distribution and multimedia channels to tap into the consumer demand at all levels and put their new launches across the customer base. Companies are expected to add 20% more to their current workforce base, and the pay scale will be higher than last year.
This week's edition of "Indian Retail at a glance" highlights the The Great Indian FMCG festival in coming months. Will FMCG firms bet big on bumper festive sales? How are Reliance Industries pounding the pavement in FMCG domain?
Will FMCG brands pump in more AdEx to cash in on festive mood?
In the quarter that was marred by rising inflation and dwindled demands in rural India, FMCG major Hindustan Unilever reported 11% growth in net profit at Rs 2,289 crore for the Q1. The company spent more than Rs 1,300 crore on ads and promotion in the quarter, up 29.64% from the corresponding quarter in the previous year. Riding on bumper growth, HUL is likely to increase its advertising expenditure further in Q2.
CLICK HERE TO READ MORE.
FMCG firms bet big on bumper festive sales
Fast moving consumer goods companies are ramping up supply chains and investing in marketing campaigns as they expect stronger sales this festival season.
CLICK HERE TO READ MORE
Normal monsoon drives August FMCG sales up nearly 7% in rural areas
Demand for fast-moving consumer goods in rural India grew 6.7 per cent in value in August, while urban areas registered a value growth of 5.5 per cent over July, as consumption in rural areas increased due to normal and above normal monsoons in most parts of the country.
CLICK HERE TO READ MORE
Reliance Industries in talks to buy bunch of FMCG brands
Reliance Industries Ltd is in talks to acquire brands such as Garden Namkeens from CavinKare, besides other brands such as Lahori Zeera and Bindu Beverages in a bid to strengthen its fast-moving consumer goods (FMCG) play.
CLICK HERE TO READ MORE.
Indian FMCG company Pintola ropes in Sunil Chhetri as brand ambassador
Homegrown superfood brand Pintola has signed Sunil Chhetri, the captain of the Indian Football team, as the face of its nut butter brand in a multi-year. CLICK HERE TO READ MORE.
Reliance is set to take on HUL, ITC and others in everyday items – here's what it may take to disrupt the space

The $214 billion Reliance Industries (by market cap)– which has a presence in everything from telecom (Reliance Jio) to retail, petrochemicals to oil and gas, entertainment and financial services– will soon foray into a fast-moving consumer goods (FMCG) business, a $100 billion market already dominated by the likes of Hindustan Unilever, ITC and Britannia among others.
CLICK HERE TO READ MORE
THE NEW SHOP Expands Offline Presence, Opens Store in Meerut
The NEW Shop, the omnichannel convenience commerce company operating 24 hours open brick and mortar stores and providing instant hyperlocal deliveries within 30 minutes expanded to another Tier ll city, and launched its operations with multiple franchise partners in Meerut, Uttar Pradesh.
CLICK HERE TO READ MORE.