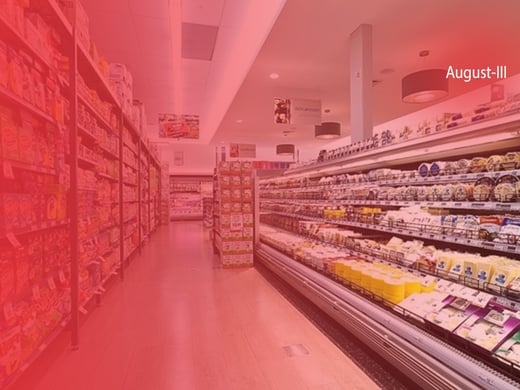 While the Pandemic has undoubtedly affected the lives of millions globally, industries remain positive while working on new approaches to reach consumers. Most of the retailers continue to face difficulties but at the same time are positive about the change. Cataloguing the ups and downs in retail, here comes another edition of our "Indian Retail at a Glance". Continue reading to see how retail scored in the past week.
Indian FMCG industry clocks 37% value-based growth in Apr-Jun qtr
Indian FMCG industry recorded a 36.9 per cent value-based growth in April-June 2021, the quarter hit by the second wave of the pandemic, over the corresponding period a year ago.
CLICK HERE TO READ MORE
FMCG Companies Bet Big on Direct-to-Consumer Reach
While pivoting to digital technologies, B2C and B2B apps, the FMCG companies have also realigned their product portfolios in a major way capitalizing on the shifting consumer preferences and behavior in times of the pandemic.
CLICK HERE TO READ MORE
Which are the Top Performing Segments in the Retail Industry
The Indian retail industry has emerged as one of the most dynamic, fast-paced, and up-scaling industries in the past few years. This is primarily due to the consistent entry of new players across various segments into the market. As a result, the complete landscape of this industry has witnessed a change of late.
CLICK HERE TO READ MORE
How did Pandemic Impact the Fashion Retail
Customers have started giving preference to 'comfort', and the fashion industry taught all, that comfort doesn't mean sacrificing style.
CLICK HERE TO READ MORE
The Next Frontier: New Models of Indian Commerce
As e-commerce in India matures and as we've seen across other countries such as China, new models of commerce come up that allow businesses to reach and service the consumer in new innovative ways.
CLICK HERE TO READ MORE
Emerging Trends in the Supply Chain Industry Amid Pandemic
India is going to become the world's second-largest e-commerce market by 2034. The key drivers of this growth are likely to come from the grocery and fashion industries, with the grocery market alone expected to reach $18.2 billion in three years.
CLICK HERE TO READ MORE
ITC to invest $2 billion in medium term to ramp up capacity
To ramp up capacity, FMCG-to-hotels conglomerate ITC will be investing $2 billion in the medium term as part of its strategy reset. This would include investments for capacity building and fund new growth areas.
CLICK HERE TO READ MORE
FMCG firms ramp up presence in chemist shops during pandemic
Leading FMCG companies in certain categories have been ramping up their presence across pharmacies in the past one-and-a-half years, especially to tackle supply chain challenges during Covid-induced restrictions.
CLICK HERE TO READ MORE
FMCG sales via e-commerce touched double-digits in May
When benchmarked to 100 in the pre-covid period or the March quarter of 2020, e-commerce sales in the June quarter of this fiscal were at 134. The measure stood at 96 during the same quarter a year ago.
CLICK HERE TO READ MORE
GCPL launches online-first brands in detergent and home care categories
Godrej Consumer Products Limited (GCPL) announced the launch of digital first brands as it hopes to capitalize on the growing shift of packaged consumer goods to e-commerce.
CLICK HERE TO READ MORE
PepsiCo India extends partnership with CSC, to list products in 3 more states on Grameen eStore
PepsiCo would also strengthen the availability of its snacking products in the rural area of Uttar Pradesh, a state where it had successfully piloted the project, by listing in more districts.
CLICK HERE TO READ MORE
Godfrey Phillips India's net profit sees two-fold jump to Rs 112 cr in Q1 FY22
Cigarette maker Godfrey Phillips India Ltd reported an over twofold jump in its consolidated net profit to Rs 112.40 crore for the first quarter ended June 2021.
CLICK HERE TO READ MORE