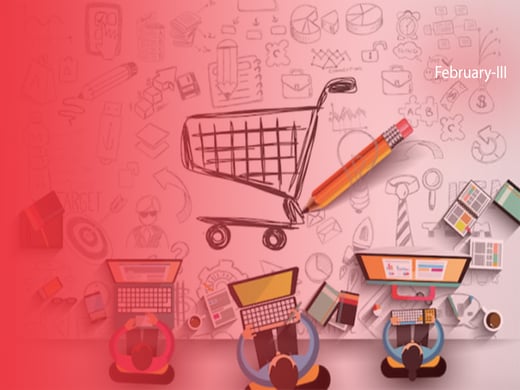 The Offline Traditional model is currently the largest channel for selling FMCG brands. This paradigm shift from offline to online has given a big boost to e-commerce players who have gained significant traction in the last two years of the pandemic. Consumers find it convenient to purchase form online portal & Lockdowns and Work from Home culture has restricted consumers to physically visit the store. FMCG industry 2022 growth projections are surpassing 2021. The resilience shown by FMCG sector in manufacturing, daily operations, insights and communication is the key for the growth this year.
This week's edition of "Indian Retail at a glance Glance" introspects the key reasons and practices for the predictive growth in FMCG sector. How consumers are adapting to the new normal and inclining towards online platform resulting from the post pandemic culture.
How FMCG sector can leverage 3PL services to drive efficiencies and optimize operations
The Indian consumer behavior patterns have largely transformed over the past few years, with accelerated changes brought on by the pandemic. While technology remained the key disruptor, the rise of modern retail, and higher penetration of key FMCG brands into the rural and semi-urban parts of India, marked a shift in the Indian FMCG sector growth story.
CLICK HERE TO READ MORE
FMCG sector bets on 2022 to speed growth Rate and Surpass 2021s' double digit growth
The FMCG industry has evolved and exhibiting resilience to evolve in ways that create more value in the future for the entire chain after it bounced back from the second wave. The revenue growth of the FMCG sector is expected to double the increase in the coming fiscal year, owing to factors such as recovery in urban demand and discretionary segments, as well as price rises implemented to counter the impact of rising raw material prices.
CLICK HERE TO READ MORE
The New Decade of Digital Distribution for FMCG Brands
Firstly, COVID-19 taught us to be ready for a world of volatility, uncertainty, complexity and ambiguity (VUCA). COVID-19 came as a sudden nasty surprise to most businesses having physical presence. The second Delta wave and the third Omicron wave have kept us on tenterhooks, guessing over the future. Historically, humans have been known to adapt best to the environment around them and the transformation that they have made in the last two years has been phenomenal. CLICK HERE TO READ MORE
Amul asks top retail companies to 'avoid' deep discounting on its products
India's largest dairy company Amul has written to leading offline and online retailers including Reliance Retail, Amazon, BigBasket and D'Mart, asking them to "avoid" deep discounting on its products for their B2C (business to consumer) businesses, in other words, what the retailers sell to consumers.
CLICK HERE TO READ MORE
India, China power Unilever to report fastest growth in 9 years in 2021
A double-digit growth in the priority markets of India and China helped the Anglo-Dutch FMCG major Unilever deliver its fastest underlying sales growth in nine years in 2021.
CLICK HERE TO READ MORE
Coca-Cola celebrates 25th anniversary
Hindustan Coca-Cola Beverages (HCCB), one of India's top FMCG companies, has marked 25 years of its inception at a function organised virtually. Industry & Commerce Minister KT Rama Rao congratulated the company, its suppliers, partners, distributors, retailers, and employees on behalf of the State.
CLICK HERE TO READ MORE
Dabur becomes first Indian plastic waste neutral' FMCG company in India
Dabur India, India's largest Ayurveda company said it has become a complete plastic waste neutral firm in the country after collecting, processing and recycling around 27,000 metric tonnes of post-consumer plastic waste during FY21-22.
CLICK HERE TO READ MORE
Price Company emerging as lowest-cost community grocery e-commerce player
Price Company, the recently launched arm of udaan, India's largest business-to-business (B2B) e-commerce firm, is emerging as the lowest cost player in the community grocery Industries e-commerce (CGE).
CLICK HERE TO READ MORE