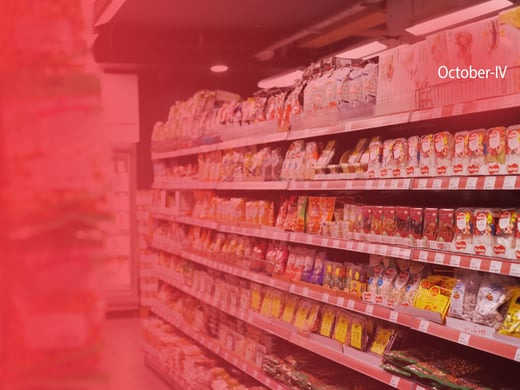 With the festive season approaching yet again, it is time to take a step back and look at new and emerging trends shaping consumer behaviour. Planning for a spike in demand during this peak season makes or breaks the profitability for many businesses for the upcoming year. Meanwhile, let us go through this week's "Indian Retail at a Glance" to further understand how retail fared in the past week.
How Retail and FMCG Companies are Using Data Analytics for Supply Chain and Logistics During Festive Time
It is no surprise that festival months are the time of the year when buying activity surpasses all other months. And the buoyancy in customer demand ends up putting retail and FMCG companies in a tough spot. Running out of inventory, shortage of workforce, and storage space, and fleet management are some of the challenges that crop up during the festive season.
CLICK HERE TO READ MORE
How is rural marketing capturing the uncaptured market?
The increase in smartphone users and affordable data plans are leading to the growth of online users in the country's rural regions. It is estimated that by 2023, there will be over 650 million internet users in the country, and this is gradually catching the attention of marketers to tap fresh opportunities emerging in Indian markets.
CLICK HERE TO READ MORE
Consumers more 'excited' about festive shopping this year, 73% intend to shop online
Apparel and home appliances are on top of the shopping lists of consumers this festive season, with 94 percent of consumers excited to shop during this festive season, up from 80 percent last year.
CLICK HERE TO READ MORE
From 'offline' to 'always on': How traditional businesses are finding new levers.
E-retail in India has grown over 3x in the past four years to reach $38 billion in the calendar year 2020 and is expected to grow another 5X in the next 5 years to around $140 billion. This growth of online retail will lead to an increase in penetration from 5% of overall retail at present to 11% of the retail market by calendar year 2025.
CLICK HERE TO READ MORE
Pre and Post covid era, finds 36% increase in FMCG Sales
Covid has impacted lives and the economy immensely since 2020. As a result all industries have reported a marked decline in overall sales. With almost two years of the pandemic underway, festival habits have also changed and evolved during this time. With the festive season approaching yet again, it is time to take a step back and look at new and emerging trends shaping consumer behaviour.
CLICK HERE TO READ MORE
Festive season to see record smartphone sales of $7.6 billion in 2021
Smartphone Sales in the Country are expected to touch as record USD 7.6 Billion this festive season. The ASP during the festive season is also expected to grow 14% to reach its highest ever at USD 230.
CLICK HERE TO READ MORE
Converged Experience: A Fundamental Expectation for Retail Sector in The New Normal
There has been a paradigm shift in customer behavior as shown in a recent survey by IBM Institute f for Business Value (IBV) - customers will not abandon the online shopping options they became accustomed to using during the pandemic. On the other hand, retailers are facing a myriad of challenges, as COVID-induced lockdowns either shuttered stores or reduced footfalls at those that are open; shopping malls are taking a bigger blow with less than 50 percent footfalls, as per various estimates.
CLICK HERE TO READ MORE
Starbucks eyes faster India expansion with new store formats
Starbucks aims to hasten its India expansion with smaller stores and drive-through outlets, the CEO of its local partner said on Monday, signalling the American coffee chain's bullish plans as the COVID – 19 slowdown abates in the country.
CLICK HERE TO READ MORE
Colgate-Palmolive India Q2 profit down 2% to Rs 269 crore
FMCG Major Colgate-Palmolive India Ltd on Monday reported 1.83 per cent decline in Net profit at Rs. 269.17 crore for the second quarter ended September 2021. The company posted a net profit of Rs 274.19 crore in July-September period a year ago, Colgate Palmolive India Ltd said in a BSE filing.
CLICK HERE TO READ MORE
How Cadbury Is Using AI To Turn Shah Rukh Khan Into A Brand Ambassador For Local Kirana Stores
Chocolate maker Cadbury is known for creating stirring and hugely popular ad campaigns in India. Be it the 'Kuch Meetha Ho Jaae' slogan or the 'Pappu Pass Ho Gaya' campaign, Cadbury has managed to reach millions of hearts in India with its thoughtful, well researched and relatable ads that strike a chord with Indian audiences.
CLICK HERE TO READ MORE