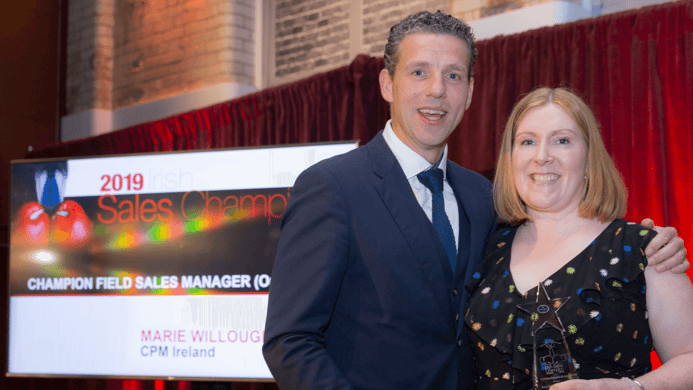 At CPM we are extremely proud of the National Sales Manager for our Fundraising department, Marie Willoughby, who was recognised as the Irish Sales Champion Manager of 2019. For the ninth year in a row, CPM has been rewarded at the Irish Sales Champion Awards, which were held the past Friday, June 14th at the Guinness Storehouse.
The 9th Annual Irish Sales Champion Awards celebrates the competitive spirit, ingenuity and tenacity of Irish sales personnel on the front line and acknowledge these positive individuals in three key areas: sales consultants/ representatives; behind the scene sales support; technology/Sales tools providers.
It is a great achievement to have won one of the most illustrious awards in the competition and a well-deserved recognition for all the hard-work, commitment and professionalism that Marie has brought to her role leading our fundraising teams. Marie's remarkable integrity and commitment to her people is second to none.
CPM has also been recognised in previous Irish Sales Champion Awards, in the categories of Best Outsource Sales Partner, Field Sales Champion, Best Use of Sales Technology and Best Sales Team.
CPM is Ireland's leading Field Sales specialist. We are an award winning, omnichannel, outsourced sales agency, with a proven track record for increasing sales not only in Ireland but around the world. We use insight to influence and drive sales through our specialist field sales and marketing teams, contact centres and digital marketing solutions. If you'd like to know more about our successes at the Irish Sales Champion Awards or find out how CPM can help your business to drive sales, contact us at info@cpmire.com or call 01 7080 300.