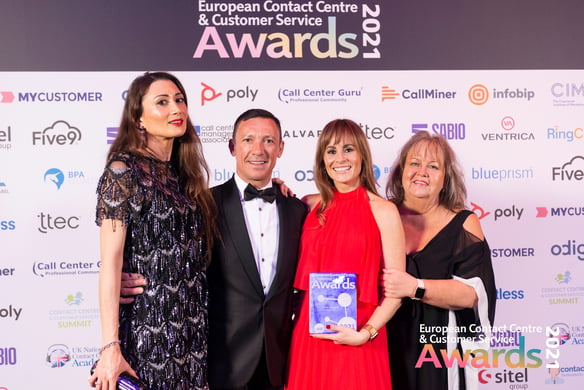 CPM International took home the gold this year for the Most Effective Application of Technology at the 21st European Contact Centre & Customer Service Awards (ECCCSAs).
The awards ceremony took place in Battersea, London on Tuesday November 23rd with over 1,000 people in attendance. There were entries this year from 25 countries competing across 27 categories.
The ECCCSAs are the largest and the longest running awards programme in the contact centre industry. The awards acknowledge pioneering companies, across Europe, that are paving the way in delivering exceptional customer service solutions.
CPM International´s submission to the judging panel this year included ACTiON (their pioneering new virtual video solution for customers) as an example of innovation.
´´Overall consumer behaviour is changing. Customers don't just want a robotic or automated process, they still want the human touch. CPM are passionate about blending the human element with the digital experience into one seamless, customer journey and this is how ACTiON was born´´
Andy Buck, Commercial Director
CPM International are keen to deliver that ´´instore´´ experience online to their customers. The company are currently rolling out their virtual video solution to their client base. It is clear the future of the industry is evolving to combine innovative digital technology with real human experiences. Companies are recognising the importance of personalisation in the sector. Retailers are well aware that if customers do not feel they are receiving that ´personal touch´, they will take their business elsewhere.
´´Imagine a customer, anywhere in the world, consulting with one of our trained experts. Simply by clicking on our ACTiON link, the customer will be connected to a specialist face-to-face ´´
Jim McGlynn CTO CPM
From recent studies conducted, we know that approximately 80% of shoppers begin their journey online. Therefore, retailers are tasked with transferring that instore ´´feel´´ to their online followers. Consumers, particularly the younger generation, place huge importance on the ´human aspect´ of the consultative sales experience. They want to be informed before making that decision to buy. This is especially the case when it comes to high-end value goods. Research indicates that consumers have become more pocket-savvy and are (now more than ever) more environmentally aware. Shoppers want to ensure they purchase the right products from the right brands. But does this high-end solution equate to a high-end price for a perspective client?
´´ Part of CPM´s vision is to bring excellent value to our clients. ACTiON has been carefully designed to be a plug and play service. With no on-going heavy investment costs, no long-term commitments. We are seeking to provide a solution that enables you to connect with your customers without driving up your operational costs ´´
Scott Bendowski – Director of Business Optimisation
CPM´s ACTiON solution is available now for full demonstration and consultation.
If you are curious to learn more about ACTiON, click on https://www.icc.cpm-int.com/action for more details.