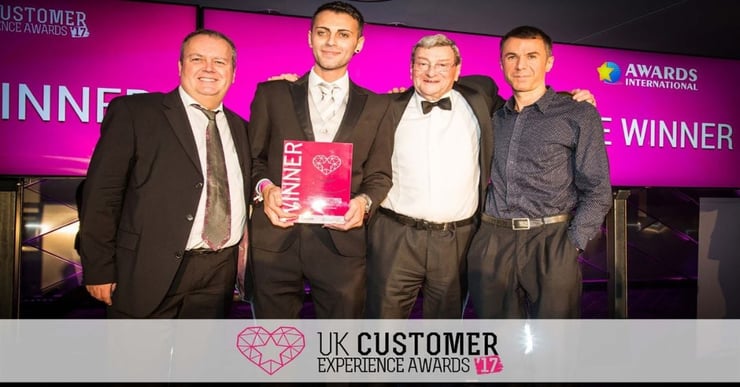 October, 19th 2017 – Barcelona
CPM Barcelona named Best in Class in Social Media at UK CX Awards
We are thrilled to announce that CPM's International Contact Centre in Barcelona took home GOLD at the UK CX Awards – for International Business – Best in Class - Innovation in Social Media, as a result of the amazing work undertaken by our CPM Social Media Team!
The CX Awards are a prestigious award body who undertake and annual awards process recognising innovation in customer experience throughout Europe.
Following a gruelling finalist presentation competing against 5 other shortlisted agencies; CPM were announced as category winners at an awards dinner soiree and ceremony held at Wembley in London last month.
This award recognizes CPM Barcelona for its forward-thinking and innovative approach to social media and social customer service. As customer experience specialists, CPM Barcelona delivers omnichannel customer service solutions for our blue-chip client portfolio, spanning 22+ languages and 65 markets.
"Winning the Innovation in Social Media Award is a testament to CPM Barcelona's dedication and commitment to constantly innovate when it comes to customer experience, "says Fiona Whelan, Managing Director, CPM Barcelona.
"We place a heavy focus on innovation and future visioning to optimise digital channels and ensure continued service excellence as channels proliferate; securing customer brand loyalty and generating long-term relationships between our clients' customers and their brands."
CPM Barcelona is also in the running for 4 other contact centre awards at this year's European Contact Centre and Customer Service Awards and CCA Global Excellence Awards. Winner announcements will take place in November at the gala dinner award ceremonies.
About CPM International Contact Centre - Barcelona
CPM Barcelona, as part of CPM Group and a member of the Omnicom Group, is an international contact centre delivering outsourced customer experience and sales solutions on an EMEA-wide basis. CPM specialises in the delivery of omnichannel customer engagement solutions for global clients spanning High Tech, Consumer Electronics, FMCG, Retail and Travel industries and currently covers 22+ languages across 65 markets.
For further information, contact:
Rachel Doyle | M: +34 638 140 620 | E: Rachel.doyle@es.cpm-int.com |W: /icc/