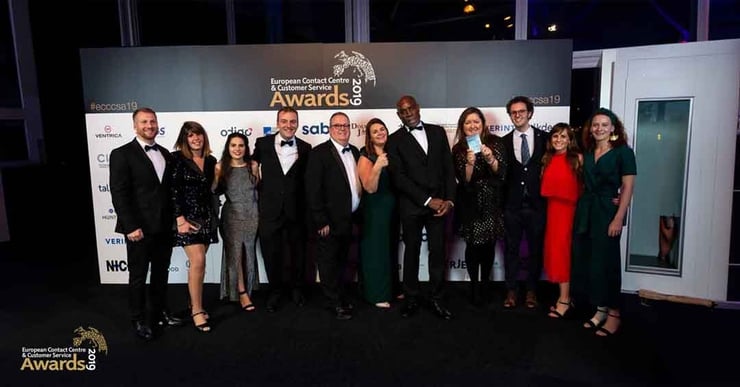 November, 28th 2019 – Barcelona
CPM Barcelona takes home two Silver awards in Most effective improvement program category and Best quality management team category at European Contact Centre and Customer Experience Awards 2019
We are delighted to announce that CPM's International Contact Centre in Barcelona took home Silver in the Most Effective Improvement Program Award category and Best Quality Management Team Award category at European Contact Centre and Customer Experience Awards 2019.
The 19th edition of the ECCCSA recognised organisations across Europe that are leading the way in delivering exceptional service to customers. Winners were announced at an awards dinner ceremony held at Evolution venue at Battersea Park in London on the 26th of November.
Following a multi-stage award submission process, which included a face-to-face finalist presentation competing against 9 other shortlisted agencies, CPM's Airbnb team won the silver medal crediting the projects La Laguna and La La Land project as the most effective improvement program.
Likewise, CPM Airbnb Quality Team won silver medal in the Best Quality Management Team Award category amongst 8 other nominated competitors. This recognition highlights the brilliant job of our Transformation Team in innovating the end to end approach to quality management for Airbnb hosts and guests.
"I am enchanted that our innovative and creative approach to transforming core working processes has been recognized by both our partner Airbnb and by top industry professionals. Effectiveness derives from people-oriented projects and I am proud the team was able to adapt to new circumstances, maintaining engagement and commitment simultaneously driving a focus on the metrics and the drive to excellence. " said Tom Johnston, Business Unit Director at CPM Barcelona.
Furthermore, we would like to make a special mention to our other CPM Finalists. The nominations recognize the excellence in customer experience delivery, and we are immensely proud CPM is multi accoladed:
• Best outsourcing partnership - Agilent Technologies & CPM
• Best contact centre support team - CPM BCN Talent and development team
About the ECCCSA
As the longest running and largest awards programme in the customer contact industry, the European Contact Centre and Customer Service Awards (ECCCSAs) recognise organisations across Europe that are leading the way in delivering exceptional service to customers.
Highly regarded for its robust judging process, the ECCCSAs award organisations that value their people, continually innovate to improve the customer experience, and operate efficiently and effectively.
Being an ECCCSA winner is a prestigious accolade that has proven to raise the profile of the contact centre operation, its capabilities and its stars.
Now in their 19th year, the programme is seeing incredible growth with 19 countries participating in 2018 and over 1,200 people attended the awards evening representing the most senior customer experience professionals in Europe, as well as key industry influencers on customer contact.
About CPM International Contact Centre - Barcelona
CPM Barcelona, as part of CPM Group and a member of the Omnicom Group, is an international contact centre delivering outsourced customer experience and sales solutions on an EMEA-wide basis. CPM specialises in the delivery of omnichannel customer engagement solutions for global clients spanning High Tech, Consumer Electronics, FMCG, Retail and Travel industries and currently covers 26 languages across 71 markets.
For further information, contact:
Rachel Doyle | M: +34 638 140 620 | E: Rachel.doyle@es.cpm-int.com |W: http://www.cpm-int.com/icc/