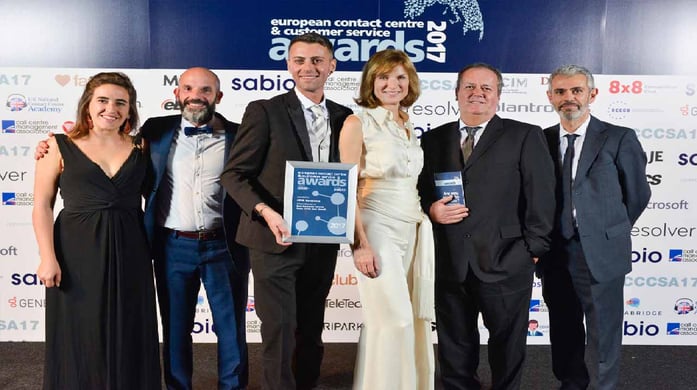 4th December 2017 - Barcelona
CPM Barcelona takes home Silver Best Customer Service Team of the Year Award at the European Contact Centre & Customer Service Awards
We are thrilled to announce that CPM's International Contact Centre in Barcelona took home Silver in the Best Customer Service Team of the Year Award category at the European Contact Centre and Customer Service Awards last night; recognising its revolutionary approach to Social Media and Customer Service!
Speaking about the awards, Tom Johnston, Business Unit Director – Sales through Service, CPM Barcelona said, "I am delighted that our ground-breaking and innovative approach to growing the online community, serving our millennials via their channel of choice and truly monetizing Social Media through customer service excellence, has earned the accolades of so many industry experts."
"CPM is committed to innovation in consumer engagement and embracing digital channels as part of our industry-leading approach to omni-channel customer service. This award acknowledges the amazing success and commitment of our social media team in delivering best-in-class customer service. I am extremely proud of the team," says Fiona Whelan, Managing Director.
This award recognizes CPM Barcelona for its forward-thinking and innovative approach to social media and social customer service. As customer experience specialists, CPM Barcelona delivers omni-channel customer service solutions for our blue-chip client portfolio, spanning 22+ languages and 65 markets.
Following a multi-stage award submission process, which included a face:face finalist presentation competing against 9 other shortlisted agencies; CPM were awarded Silver medal category winners at the awards ceremony held at the impressive Evolution venue in Battersea Park, London.
CPM Barcelona's Social Media Team had already triumphed at the UK Customer Experience Awards earlier this year, scooping the prestigious Best in Class - International Social Media Award.
The European Contact Centre and Customer Service Awards (ECCCSAs) are the largest and longest running awards in the customer contact industry. Highly regarded for its robust judging process, the ECCCSAs recognise organisations that are leading the way in delivering exceptional service to customer.
About CPM International Contact Centre - Barcelona
CPM Barcelona, as part of CPM Group and a member of the Omnicom Group, is an international contact centre delivering outsourced customer experience and sales solutions on an EMEA-wide basis. CPM specialises in the delivery of omnichannel customer engagement solutions for global clients spanning High Tech, Consumer Electronics, FMCG, Retail and Travel industries and currently covers 22+ languages across 65 markets.
For further information, contact:
Rachel Doyle | M: +34 638 140 620 | E: Rachel.doyle@es.cpm-int.com |W: https://ch.cpm-int.com/icc/