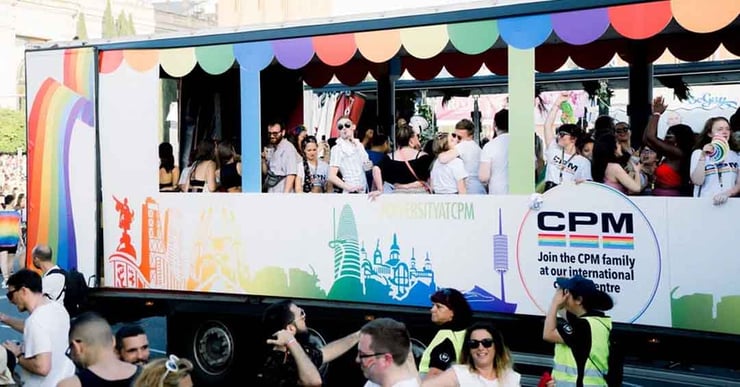 CPM ICC Barcelona celebrates Pride month and despite social distancing we stand united for LGBTQIA+ rights and freedom!
CPM International Contact Centre, as part of Omnicom Group, is committed to fostering diverse and inclusive workplaces where all employees, regardless of race, gender, sexual orientation, age, disability or experience feel comfortable and confident in bringing their whole selves to work.
A culture of equality fosters trust, innovation, creativity and, ultimately, business success. Being champions for diversity is our way of life and it is at the very centre of the CPM values that drive us every day. We are committed to creating a respectful work environment in which all of us feel free to be our true selves.
June is internationally recognised as the official Pride month, so it is time to celebrate our daily culture around diversity and inclusion. CPM's efforts are strengthened through our engagement of and advocacy for our LBGTQIA+ employees and community during this month and beyond.
We embrace our colleagues through OPEN Pride, which provides opportunities for leadership, visibility, community involvement, networking and business growth. CPM continues to collaborate with numerous industry and community organizations to elevate diversity and inclusion conversations, and actions, in our workplaces and across the industry.
#PrideIsn'tSwhitchedOff
CPM has proudly sponsored the last three Pride! parades in Barcelona. Having progressed from a walking group in 2017 to a float in 2018, 2019 saw CPM have two floats in the Pride! parade and a stand in the official Pride! village. In total, a team of 200 people were involved last year, supporting with float design, float dressing, social media engagement, photography and most importantly, showing up to participate in the parade, representing CPM in the official annual event.​ Unfortunately, current social distancing measures have caused the suspension of this year's activities but in separation, #UnitedWeStand and Pride will still happen online.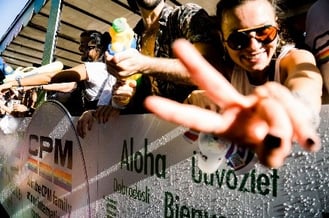 At CPM #EveryoneIsWelcome and we celebrate the diverse people working in our company. The pride events of 2019 were some of the greatest and most gratifying to partake in as this marked the 50-year anniversary since the Stonewall riots movement which was a turning point for the LGBTQIA+ community in achieving the much fought for rights which they have today. Whilst great strides have been made in the path to true equality, there is still much more to be done. The fight for freedom, dignity, respect and acceptance for LGBTQIA+ rights continues this year. The two CPM floats in 2019 showed the team spirit to the world and contributed to the great success of the event. CPM is committed to keep the visibility and we can't wait to keep celebrating virtually this year! Because #PrideIsn'tSwhitchedOff
Being One with the Community
Did you know that CPM is a proud member of ACEGAL?
ACEGAL is a Catalan Gay and​ Lesbian Business Association​ aimed at the promotion and visibility of the LGTBI+ community, the defence of their individual and collective rights, as well as being a reference and interlocutor with the different public administrations. ACEGAL play a huge part in building up and organising PRIDE Barcelona each year and are the largest defence of LGBTQIA+ rights in Catalonia.
CPM collaborates with local organisations such as ACEGAL and PRIDE! to support LGBTQIA+ professionals living in Barcelona, a city with an open heart and respect for diversity in which CPM International Contact Centre is located.
OPEN Pride chapter in Barcelona
CPM is committed to not only celebrating the rich diversity of its workforce but also being a true champion of diversity. In setting up the first OPEN (Omnicom People Engagement Network) Pride chapter in Barcelona, CPM is committed to: ​
Ensuring that we maintain a prominent position in our local community at PRIDE and other such events to demonstrate our unwavering commitment to celebrating the diversity of our workforce and providing a totally demonstrable inclusive work environment​.
Encouraging our workforce and clients to ensure that at all times, equality and inclusion of the communities that make up our diverse workforce remain at the forefront when making key decisions, both strategic and operational. ​
Continuing to provide an inclusive workplace in which our people can realise their true potential while also being true to themselves. In particular, we will ensure that people who identify as a part of the LGBTQIA+ community or as an ally, feel supported and safe.
This year, OPEN Pride is running the Instagram campaign Celebrating Pride Moment by Moment to share the little moments that show what Pride means to you with the hashtag #MyMomentsOfPride as a small step towards accurate, intersectional representation. OPEN Pride ask you to reflect on its origins as a series of protests, many of which were spearheaded by people of color. We'd like to use this platform to lift up and amplify the voices of the Black LGBTQIA+ community and stand together against injustice.
"Pride is about the feeling. It's about connection, expression, friendship, feeling seen and heard. Let's celebrate those little moments that make us proud to be LGBTQ+ and allies"
Tell Us Your Journey!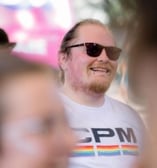 CPM Barcelona OPEN Pride chapter chair​ Christopher McDonnell says: "Having worked for CPM Barcelona for 5 years, it still never ceases to amaze me just how wonderful it is to see firsthand just how truly inclusive our workplace is. Whilst this is absolutely not limited to the LGBTQIA+ community, it is perhaps best highlighted by the sheer number of colleagues who have, during their time at CPM felt safe and supported to embark on a journey which has enabled them to live a life that is totally true and authentic to who they are. This has included coming out, embarking on their transition journey as well as making lifelong friends and allies." ​
Chris has participated in the OPEN #MyMomentsOfPride campaign and he is looking forward to seeing how creative and adaptive the LGBTQIA+ community can be. Check out his video in OpenPrideMoments Instagram.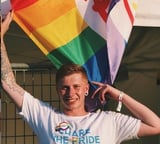 Matthew Shipman, CPM ICC colleague says: "I am originally from a small town on the outskirts of Sheffield and was never comfortable with myself until moving to Barcelona and starting work in CPM. During my time working with CPM I have met numerous people from all different types of backgrounds, everyone has always been very welcoming and never judgmental about appearance, sexuality, or opinions. Working in CPM and being a part of the community and culture finally gave me the confidence to be my true self and to accept myself for being homosexual which is never something I had considered to do at home. When this finally happened, I was never judged but in fact it was celebrated that I had taken this leap and now had the confidence to finally admit this to myself and those around me. This is why I love working in CPM, everyone is very supportive, and I believe this gave me the courage to change my life as well as many others within the company." ​
We look forward to continuing our journey and hope that you will join us along the way!
#DiversityatCPM #EveryoneIsWelcome #SpiritofCPM #PrideIsn'tSwitchOff #MyMomentsOfPride #UnitedWeStand
[embed]https://www.youtube.com/watch?v=9kYh1bpwiBY[/embed]