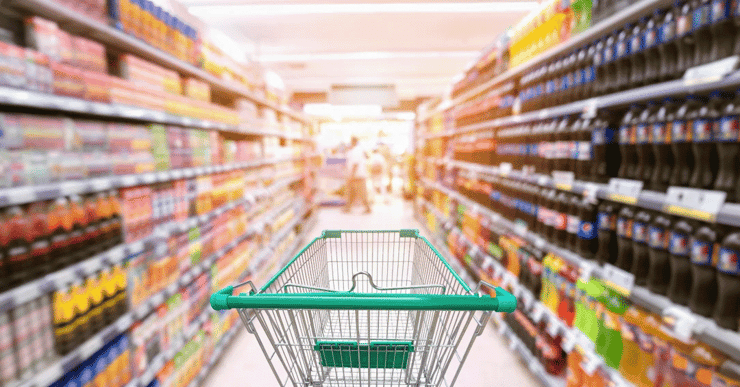 Large format stores continue to lead on volume and sales…
We keep hearing about the rise of eCommerce, discounters and convenience- whilst there is no doubt, that we are seeing significant growth in these channels, supermarkets and hypermarkets continue to lead in audience numbers and sales.
The pandemic has clearly changed the way we shop or perhaps just sped up the process- customers want the 'right here, right now'. This is offered by convenience and the extensive opportunities through eCommerce. The Latest IGD figures demonstrate that Europe's market share in Supermarkets will be broadly flat by 2027 however, sales are set to increase to $4700bn ($70bn incremental) by 2027…. which is the largest share of all the retail formats… The UK is the leading country in this format.
So, what is driving this?
We still need to do a 'big shop' and whilst online does offer this option for us, 61% of European consumers prefer to personally select fresh food. Historical challenges around replacement items have challenges in perception, although confidence is growing in this area.
Largest format stores are now more than a shopping mission, with many of the big retailers partnering with third-party organisations to enhance shopping experiences…. Concessions such as McDonalds, Greggs, Costa and Starbucks are regularly seen in the Supercentres. Brands are also delivering stand-out customer experiences to drive NPD. Having alignment with retail on key events and non-grocery brands rewards customers on their visits to stores.
Innovation through store formats and technology is making shopping experiences more enjoyable and efficient. Selected categories such as Fresh and Beauty & Toiletries have invested in reformatting their departments to create a more engaging experience. Sainsbury's is currently trialling a new look and feel beauty department to provide their customers with the feel of the high street to improve quality credentials. Self-service check-outs are reducing queue times and allowing customers to shop quicker than traditional check-out methods (although watch out for that scan check!)
What does this mean for brands?
Bring fun and excitement to stores… The retailers encourage it, and the consumers love it. Driving awareness and brand equity through in-store activations allows you to promote your brands whilst rewarding consumers and contributing to the overall mission of large format stores.
Ensure your product is available, on-shelf and accessible through feature space. The retailers back their promise to their customers who continue to spend in large format.
Get involved in the retailer's initiatives…for example: ASDA's Merchant's Den program backs new product launches and offers brands enhanced POS opportunities, creating unmissable POS in-stores (more excitement on the shop floor).
Speak to Nectar360 about Theatre Pallets which provide you with an opportunity for large format POS merchandised units in line with seasonal activity.
And let's not forget about the loyalty programmes, which all house rich data to enhance the targeting of your trading plans and further customer engagement.
Yes, we are going to see continued growth in digital, convenience and discounters however, a solid focus on main estate grocery will help drive your brands.