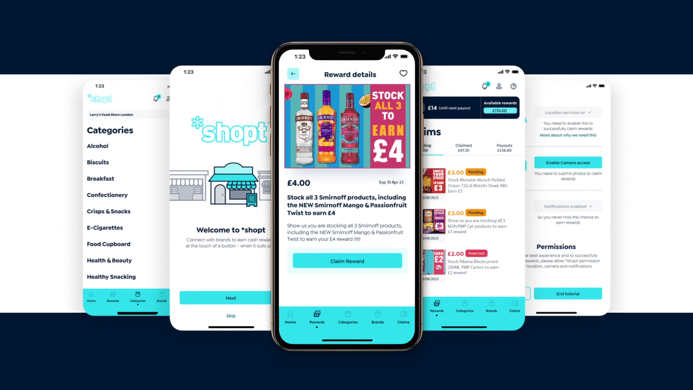 The convenience channel is made up of some of the hardest working entrepreneurs around, those who work tirelessly to make sure their stores stand out from the crowd, meet the evolving demands of their local shoppers and look after their equally hardworking teams.
Would they say no to a helping hand that can support them in putting some extra cash in their pockets? This is where *shopt comes in. As the number one engagement and rewards app for retailers, we are on a mission to make sure both new and existing users are making the most of the opportunity to reap rewards. In turn, this industry-recognised app (finalist in The Grocer Gold Awards) also creates opportunities for brands like you. *shopt allows you can expand your brand's reach in the convenience channel at the touch of a button, with the opportunity for more than 100,000 digital connections every month.
With 79% of users describing *shopt as the best cash rewards app they use, it focuses on connecting retailers with the biggest brands in the channel. Registering with *shopt gives retailers access to exclusive product offers, incentivising the stock and display of featured lines. Users can earn up to £1,000 a year, by simply submitting photos of eligible products and POS displays, watching supplier videos and even answering survey questions.
Harpal Rai, the owner of Rai Convenience Store in Harborne, has been a user of *shopt since it launched in 2018 and comments: "The app has benefitted our store as the rewards really help provide us with an extra incentive to exceed our customers' expectations.

In addition, it's a great platform for finding out about new product launches and helps us stay up to date."
He highlights the benefit of being rewarded for stocking new products and particularly values the larger cash rewards. As he adapts his range to cater to evolving shopper trends, Harpal is often looking for ideas on how he can improve his customers' experiences, and *shopt provides him with inspiration. C-stores can earn monetary rewards by proving they're stocking recommended ranges, bringing tips and advice to life in-store and showcasing best-in-class merchandising.
Not only is it great for the store owners, but *shopt holds a great advantage for brands alike. The *shopt app is a tool that can be used to ensure new products, offers and POS are displayed well within convenience stores and that your product is at the forefront of the customer's mind. The app delivers a 6:1 return on investment, new distribution points for < £6 and an average 85% cost reduction compared with traditional methods.
As retailers and shoppers face cost-of-living challenges, many store owners are adapting to support existing customers, but also looking at new ways to attract customers to their store. Supplier support has never been more important to help them achieve this, and *shopt is the one-stop shop to connect retailers with brands such as Walkers, Doritos, Lucozade, Ribena, Coca-Cola, Mars Wrigley, Galaxy, Smirnoff and Gordon's.
Harpal continues: "I would recommend *shopt to other retailers without a doubt, as it helps you actively look out for new products your customers may see advertised. In addition to the rewards themselves, you can also get a competitive advantage by having a point of difference with new products."
Alexa Hester, head of sales and marketing at *shopt comments: "We are always on the lookout for how we can further support and give back to our regular users of the app. We strive to ensure that retailers are at the heart of our business."
Retailers aren't the only ones benefitting from *shopt, suppliers and brands are constantly on the lookout for extended ways to communicate with their customers and the app provides them with the perfect platform to do just that.
Brands including Mars, Diageo, Suntory and PepsiCo are already using the app to drive new distribution, understand product availability and connect with this channel to unlock valuable insights. *shopt also provides access to advanced notice on NPD, brand loyalty schemes and industry news.
With 81% of users describing *shopt as very easy or easy to use, it's a no-brainer for brands to get involved.
Head to the *shopt app today https://shopt.digital/gb/get-app/
Get your brand in the hands of more than 17,500 retailers: hello@cpm-int.com