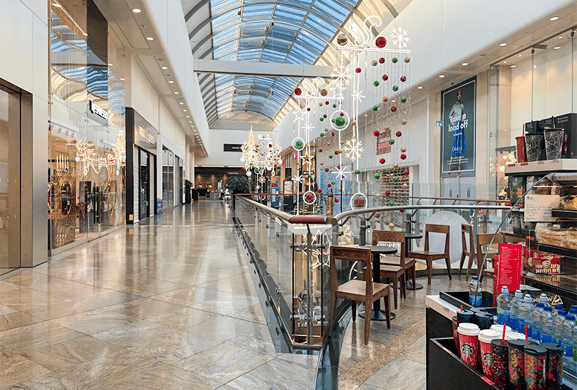 Back in October, we wrote a blog about Christmas Shopping Trends, you can find it here if you missed that and we looked at the predicted trends and best-performing categories.
We've read what was predicted and the trends and categories forecasted to perform the best, but what was the reality and what happened? These are some of my observations from being out in retail in Reading on Black Friday.
At first glance, the high street was incredibly quiet and looked more like 'Bleak Friday' than the typical Black Friday. Queues seemed to be a thing of the past and running to the best TV deal seemed like a distant memory. However, the number of shoppers out and about was up 5% from last year, according to the analysis from Springboard. On the contrary, that increase was far less than hoped, given it was compared with last year when fears around the Omicron variant of COVID hit high streets and shopping centres.
For broader observations, I visited some well-known retailers including a big department store, a well-known beauty retailer, a toy store chain, and a leading electrical retailer.
First up, the big department store. It was quiet like a Monday morning, not in fact reflective of the usual manic Black Friday that you would have expected. There were more staff than customers (roughly 6:1), which was very unusual considering this store tends to be very popular for Christmas shopping. The busiest parts of the store were the Christmas section, food, drink, and board games.
Next, I visited a well-known beauty retailer, where the only queue seemed to be for the Pharmacy. The Black Friday deals and limited Black Friday advertising didn't look to grab the public's attention. A couple of brands had offers on, but nothing was particularly eye-catching to draw the attention of potential shoppers. It was reported that this retailer had improved its website to make the customer experience easier online, reducing clicks required to check out by 40%, additionally introducing Apple Pay and Klarna. Orders dispatched online are already up 11% compared to last year. Did they predict a quieter time in-store or was this just a natural path to take?
The Electrical retailer was the most surprising in terms of its quietness. The stacks of TVs placed up and down the main aisles were still perfectly displayed, the staff were ready and yet only a handful of potential shoppers were in store! I remember, this time last year there were queues outside this store I spoke to one staff member who said it had been a very quiet morning. The weekend is expected to be busier due to the offers generally staying for the weekend rather than being specific for Black Friday.
It was predicted that Toys and Games will be the last areas that households will cut down on and based on the visits on Black Friday that stands true. I saw full trolleys and long queues for the first time that morning. On Cyber Monday it was reported that Lego was the most sought-after product followed by the PlayStation 5. With the cost-of-living crisis, are families prioritising spending more on their children than on themselves?
In summary, many factors could play a part in this year's quiet high street on 'Black Friday'. Rail strikes across the country kept shoppers away from the big shopping centres, early Christmas shopping meant gifts had already been purchased and of course, the cost of living being at an all-time high making budgeting even more important. On the other hand, could a quiet Black Friday on the high street just be the new norm? With a well-known online giant starting a Black Friday 'week', are high street retailers having to change the way they advertise to be able to draw those shoppers into their doors? From first impressions, there wasn't anything shouting out to entice shoppers into stores so the answer would assume to be, yes.
With retailer insights into Black Friday performance still to be published, I'm looking forward to reading more over the coming months on whether the predictions became a reality.

Sources:
https://www.theguardian.com/business/2022/nov/25/uk-black-friday-cost-of-living-crisis-high-streets-home-deliveries
https://reports.mintel.com/sinatra/oxygen/display/id=1166229?fromSearch=%3Ffreetext%3Dblack%2520friday%26resultPosition%3D2
https://www.dailymail.co.uk/news/article-11482515/Shoppers-spent-record-20-BILLION-online-years-Black-Friday-Cyber-Monday-sales.html