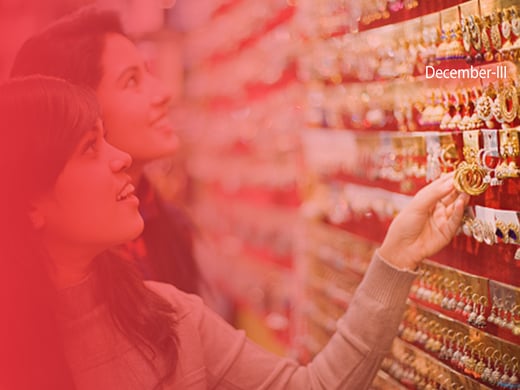 The impact of newly found COVID 19 variant Omicron is not known and the Christmas shopping is expected to be continued in full swing. Christmas shopping in India is a relatively new concept, born out of a rapidly emerging global culture where people across the globe celebrate the holiday season. As a result, a lot of retailers are still trying to capitalise on this and learn the best ways to market their business to customers.
This week's edition of "Indian Retail at a glance Glance" talks about the impact of Christmas shopping on Indian Retail Industry and How India Inc may stick to Hybrid model of working in first few months of 2022. Kirana Stores feeling the heat from e-commerce and the emergence of q-commerce, which may eat into their market share, but they are also fast getting digitized. Companies are leveraging WhatsApp as a channel to solve for stock assortment for small retailers, and as an ordering channel for customers.
Distributors write to FMCG companies for the second time on price parity
Distributors have written a second letter to fast-moving consumer goods (FMCG) companies to discuss price parity in the backdrop of higher margins given to organised business-to-business (B2B) distribution firms than to those in the traditional trade.
CLICK HERE TO READ MORE
FMCG major Emami introduces German skincare brand Creme 21 India
FMCG major Emami Limited announced the entry of its international German skincare brand Creme 21 into Indian markets leveraging modern retail and e-commerce. y
CLICK HERE TO READ MORE
India Inc may stick to hybrid work model in new year
A large section of India Inc across sectors is likely to follow hybrid working model in the new year as the pandemic enters its third year.
CLICK HERE TO READ MORE
Retail inflation rate rises to 4.91% in November 2021
The country's retail inflation rate, which is measured by the Consumer Price Index (CPI), rose to 4.91 percent during the month of November 2021, as per the data released by the Ministry of Statistics and Programme Implementation (MoSPI) on December 13.
CLICK HERE TO READ MORE
Amazon-backed grocer More Retail weighing India IPO at $5 billion value
More Retail Pvt., an Indian grocery chain backed by Amazon.com Inc., is considering an initial public offering that could value the company at as much as $5 billion, according to people with knowledge of the matter.
CLICK HERE TO READ MORE
Will Quick Commerce Quell The Kirana Store Culture In India?
The online grocery race is getting more cut-throat by the day. A popular concept in Europe, quick commerce as a business model is finding more takers in India, thanks to the increasing number of internet users and the popularity of online deliveries.
CLICK HERE TO READ MORE
Walmart-owned PhonePe digitises 25 mn merchants, kirana stores across India
Walmart-owned digital payments firm PhonePe, said that it has digitized 25 million small merchants and kirana stores in India. The company also said that offline merchant transactions on its platform have shown 200 per cent growth since last year. PhonePe attributed this phenomenal growth to the rapid expansion it has seen in offline merchant acceptance across geographies, with a 1,25,000 strong field force who have been instrumental in driving and supporting the company's merchant acceptance network across Bharat.
CLICK HERE TO READ MORE
JioMart has half a million merchants: Akash Ambani
Reliance Industries (RIL) backed online grocery venture, JioMart, currently has half-a-million retailers or kirana owners on its platform, said Akash Ambani, Director of Jio Platforms Limitedat Meta's (formerly Facebook Inc) Fuel For India event.
CLICK HERE TO READ MORE