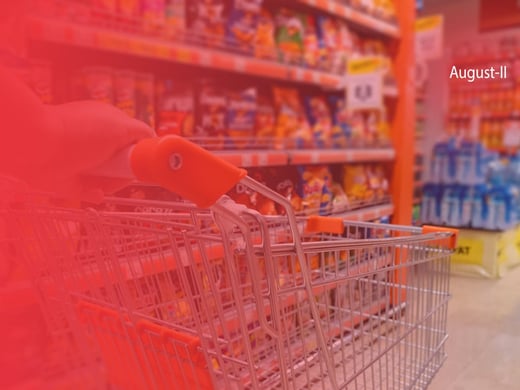 The world is still dealing with the effects of the coronavirus pandemic, more than a year on. Consumers and companies alike are becoming more interested in making sustainability-focused choices, but how to do so isn't always clear. In between all the chaos, digitalization and technology will have a major role to play in times to come. Meanwhile, let us go through this week's "Indian Retail at a Glance" and see how retail fared in the past week.
How New National Retail Policy will Help in Growth and Development of Indian Retail Sector
The Indian retail sector is already one of the largest in the world, estimated at almost US$ 900 billion in 2020, and is expected to grow to US$ 1.7 trillion by 2026.
CLICK HERE TO READ MORE
How Consumers are Adopting to V-commerce
V-commerce can be the solution that the Indian retailers need to grow their business right now without the challenges of the existing digital solutions. Consumers love the in-store experience, the opportunity to see the product before they purchase, and the flexibility with which V-commerce operates. CLICK HERE TO READ MORE
Food retailers, wholesale cos expect demand for staples to be robust in Aug, Sept
Across the country, retail stores have started stocking goods following the easing of Covid restrictions, as in these two months, year-on-year sales of staples are expected to increase by 10-15%.
CLICK HERE TO READ MORE
Embedded Finance in the Grocery Ecosystem
Embedded finance eliminates the need for a third-party bank or lender. Embedded financial organizations have discovered a way to operate as a link between themselves and their customers.
CLICK HERE TO READ MORE
Amazon scores major win against Future Retail, all eyes on Emergency Arbitrator's final ruling
Amazon scored a major win on Friday after the Supreme Court ruled in its favour. Amazon, which bought a 49 percent stake in Future Retail's promoter firm Future Coupons in 2019, objected to the Rs 24,713-crore Future Retail-Reliance Retail deal and moved Singapore International Arbitration Centre in October 2020.
CLICK HERE TO READ MORE
Indian smartphone market poised for recovery in Q3
After declining 11% quarter-on-quarter in Q2, the Indian smartphone market is expected to stay resilient and is poised for recovery in Q3 2021 and beyond.
CLICK HERE TO READ MORE
All you need to know about Future Retail v/s Amazon. Where are we headed after the Supreme Court ruling?
The allegation has led to a delay in the deal, which could have been very beneficial for Reliance Retail, but the earlier pact between Amazon and Future Coupons is acting as a barrier.
CLICK HERE TO READ MORE
Reliance launches brand Puric InstaSafe to provide best-in-class hygiene solutions to consumers
Reliance's consumer brands division has announced the launch of Puric InstaSafe, an exclusive Personal Hygiene and Home Care brand. Puric InstaSafe is presents a wide range of personal hygiene and home disinfectant products designed to address the heightened needs for hygiene and safety among consumers.
CLICK HERE TO READ MORE
Bikano introduces new sub brand 'Fatax'
The range of products which includes Ringz, Puffees, Cheese Balls, Pasta Crunch and Jungle Safari, aims to augment Bikano's presence in the rapidly growing 'western snacks' market of 16000 crore where extrudes has witnessed plenty of growth and continues to expand at 23-25 percent.
CLICK HERE TO READ MORE
Health Horizons Strengthens Presence in FMCG Category
Health Horizons caters to a variety of products across different categories like Health, Wellness, Lifestyle, Beauty, and FMCG. The company has launched over 12 products since its inception in 2017 and further plans to launch 10 more products in the next 2-3 months and up to a total of 60 products by 2022.
CLICK HERE TO READ MORE