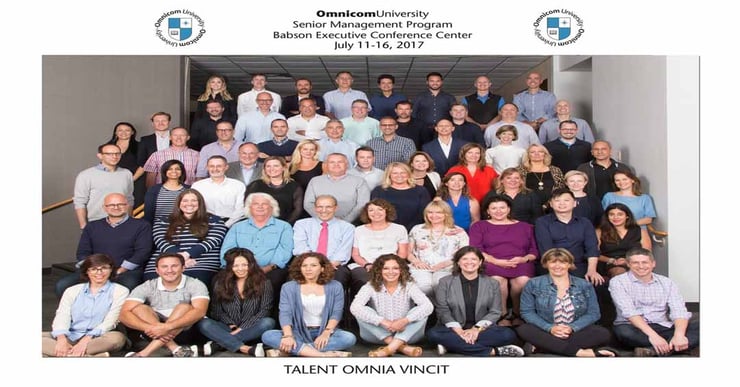 Each year Omnicom invites 60 of its brightest talents from across its 1,500 agency network to come and participate in a Senior Management Program (SMP) at Babson College in Boston, MA. Lectures and think-tank style discussional exercises are conducted by legendary Harvard Business School Professors such as Len Schlesinger, Thomas DeLong, Nancy Koehne and Luis Huete. This year, Sophie Chelmick from CPM Barcelona was one of the selected participants to attend this premier educational initiative.
"It was transformational" explains Sophie, a Business Unit Director within CPM Barcelona after successfully finishing the SMP graduate program this July. "Our lecturers; incredible, experienced professors both professionally and academically discussed real-world case studies, strategies and solutions enabling us to explore new methods and approaches to traditional leadership concepts" explains Sophie. "it was also an opportunity to network with execs from a wide spectrum of Omnicom agencies to share ideas for taking back into CPM – as well as some potential future collaborations with those agencies".
"This was very special" Sophie goes on, "a new kind of understanding emerged amongst all of us; particularly regarding some of the shared challenges the agencies face and how together we may overcome some of them; how, even as Omnicom businesses we all have an urgent and pressing need to focus on new solutions and innovations if we are to survive the future and harness the digital revolution".
A key part of the program is to lead an initiative inspired by the course teachings; Sophie explains; "I was particularly struck by AMV BBDO's creation of "Flare" in direct response to the threat of creative crowd-sourcing agencies and I want to bring the concept of "self-disruptive innovation for survival" into CPM. My initiative will be around the future of work in the contact centre both from a tech and people perspective to meet future needs of customers and employees."
"My insights were deeply personal and emotional as well as professional, I learned how critical it is to spend time with my family and that by doing so I can be more effective as a leader. I now want to to ensure I pass on these learnings to our amazing teams here at CPM so that all my CPM colleagues as well as our clients can concretely benefit from the Omnicom SMP program!"
Omnicom is an inter-connected global network of leading marketing communications companies. The Omnicom portfolio provides the best talent, creativity, technology and innovation to some of the world´s most iconic and successful brands. With 75,000 people working globally and serving 5,000 brands in a 24 / 7 / 365 world – Omnicom is made up of 1,500 agencies worldwide and CPM is one of those agencies.