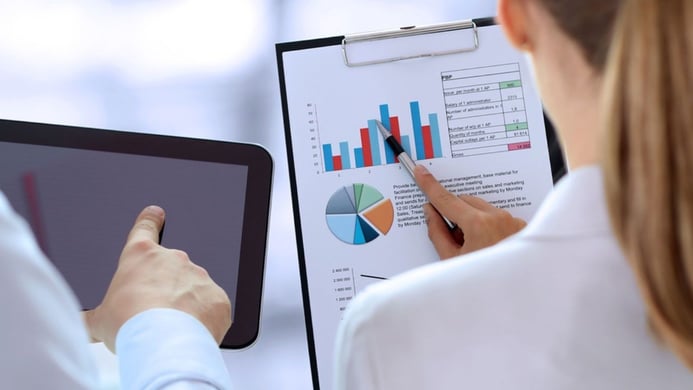 Good decisions require good data. Every piece of data collected during the different stages of the customer journey, from the lead generation to the close of sale, could be used to generate insights to improve the sales performance if used to its full potential. Defining and understanding the significant metrics from your holistic sales process will get you the good data, which can be a total game changer in determining the success of your company. Measuring this data ensures the optimal allocation of resources, identifies missed opportunities and improvement areas, and improves staff retention and satisfaction which eventually helps in driving sales and increasing profits.
So, what is the formula behind this? To be honest, there's no a one-size fits all solution for this, instead there are multiple ways that you can use to analyse your performance and build a data-driven sales strategy to accomplish your goals and improve your bottom line. In order to see the biggest impact of data utilization, gauge these 5-key metrics and improve the health of your sales pipeline with a goal of attaining profits.
1. Time spent selling
The rest of their time is spent on administrative tasks such as sending mails, data entry, prospecting leads or attending meetings. Some of these tasks could be automated so the reps can spend more time selling. The time spent selling is a key productivity metric that has a direct impact on the revenue targets. The less time a sales rep spends on achieving the quota, the higher their sales productivity is. How to ensure reps are making the most of their time? Observing sales rep's activities throughout the day is a way of calculating time spent selling, the other way is to have them logged their activity sheet on day-to-day basis. A sales automation tool would also be a good option to tack your team activities at each stage. Analyse this data and find out the tasks that delay the selling process and look for some efficient activities that yields positive results. Measuring this performance indicator relieves you from the bottlenecks and address the issues that are slowing down your team.
2. Average deal size
Knowing your average deal size will give you a starting point to grow the size of your existing and new accounts. This will serve as a guideline to track your revenue and know how many deals are to be closed to reach (or surpass) your monthly quota. Sales managers will easily identify at-risk opportunities by tracking this KPI month – by – month. For example, if the average deal size is increasing, you may be attracting leads with a wider set of needs than in previous months.
3. Leads contacted to leads closed ratio
The percentage of leads that end up converting will give you the lead conversion rate. This is a fundamental metric that is central in implementing the right sales funnel strategy. Taking a closer look behind the scenes will tell whether to continue with the current process or to make necessary changes. Measuring this proportion will give the accurate insights about point of improvements for a friction free sales process.
4. Percentage of reps meeting their quota
Quota attainment is known as the percentage of salespeople meeting or exceeding their targets in a given period. By measuring this metric, you will have a good view of the performance of your team, who are your top performers and who need more training or coaching. In addition, you will have an indication about how realistic your sales targets are. Setting an appropriate quota that motivates and inspires performance, can increase the number of people reaching their KPIs.
5. Customer satisfaction
There are some great methods and metrics designed to measure customer satisfaction. One of them are customer satisfaction surveys, a powerful approach to customer service which will encourage increased customer retention rates. For example, schedule an automated survey invitation that contains a questionnaire to be sent upon completion of deliveryAnother example of satisfaction surveys is the Customer Satisfaction Score (CSAT metric), which is a direct method where customers can rate your product or service on a scale typically ranging between 1 – 5 or 1 – 10.
Another method is the Net Promoter Score, which is probably the most popular way of measuring customer loyalty. The difference between this metric and the ones mentioned before is that NPS measures the willingness of customers to recommend a company's products or services to others. Depending of the nature of your business, social media monitoring could be a good platform to hear about the experiences of your customers and instantly communicate with them.
"Data by itself is useless. Data is only useful if you apply it." - Todd Park
Unlock the power of data within your sales by applying these 5 data resources to better understand your customers and tailor the selling experience, which will ultimately improve your sales.
Business-to-business sales is, was, and always will be a numbers game. At CPM, we make it our business to know our clients' businesses inside out, using the power of information and experience to determine future activities. We have a passion for growing brands and increasing sales, through a range of integrated sales solutions that do just that – increase our clients' sales. We have a vast experience managing high performance and data-driven sales teams with a strong collaboration culture. To find out how CPM can help your business to drive sales, contact us at info@cpmire.com or call 01 7080 300.