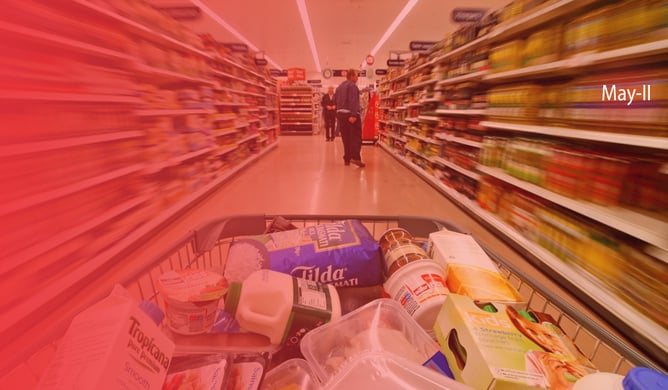 Women Entrepreneur are now shaping the future of India. The high precision work and better productivity levels are influencing the social and economic demographic of the country. These start-ups have a more inclusive work culture and employ 3x more women than men. This would significantly contribute to the FMCG industry in India which has already seen a remarkable transformation over the last two decades. With a growth rate of 14.7 pr cent, the FMCG industry has been projected to grow to a market size of almost $220 billion by 2025.
This week's edition of "Indian Retail at a glance" highlights how household budgets got disarrayed as the price of essential goods have sky rocketed. FMCG giants are backing businesses led by women in India which would open the new avenues for female entrepreneurs & The state of Indian FMCG sector and future prospects for FY'23.
FMCG Major P&G To Invest Rs 500 Cr In Women-Led Business In India By 2025
Fast-moving consumer goods (FMCG) major Procter and Gamble (P&G) India pleaded on Tuesday to invest Rs 500 crore in women-led businesses in the country between 2021 and 2025. As part of its commitment, the maker of Tide and Pantene brands will also introduce the 'P&G ReLaunch program' aimed at welcoming back professionals who took a break from their careers and are looking to restart working in STEM (Science, Technology, Engineering, and Mathematics) roles.
CLICK HERE TO READ MORE
The State of Indian FMCG sector and future prospects for FY'23
The FMCG industry in India increased by 16 percent in value during 2021. The growth has been the fastest in nine years primarily propelled by price hikes and a low base to compare with, while the actual volume of products sold remained under pressure. As per reports by CRISIL, the sector is set for double-digit growth in 2022 at 10-12 percent.
CLICK HERE TO READ MORE.
India's Unicorn Club: Here's The Comprehensive List Of Unicorns In India
In 2013, venture capitalist Aileen Lee personified the term 'unicorn' within the startup ecosystem to indicate the rarity of startups with a valuation of over $1 Bn. A decade later, unicorns in India are no longer rare! Last week, India became home to 100 unicorns, when neobanking startup Open raised $50 Mn to claim the position of India's 100th unicorn.
CLICK HERE TO READ MORE.
Household budgets go up as consumer goods companies plan price hikes to offset cost
Household budgets have been thrown into disarray as prices of essential products have increased. This is a cause of worry for the middle-class, which is bearing the maximum brunt, as the consumer goods companies that have not taken price hikes yet are planning a raise now, and companies that have already taken hikes are looking at another hike.
CLICK HERE TO READ MORE
Tata Consumer Products to get into home and personal care through acquisition led strategy
The company, which has operated primarily in the foods and beverages space, will now get into categories such detergents, home cleaners, body washes and creams and will bank on acquisitions to implement the plan.
CLICK HERE TO READ MORE.
Reliance's JioMart kirana stores find new revenue stream in supplier ads; merchant base jumps 4x
Reliance Retail's new commerce venture JioMart, which was launched in May last year, has extended its network to over 2,000 grocery stores at the end of FY22. In the last quarter of the fiscal year, JioMart ramped up its kirana network by operationalizing 21 smart hubs and 34 staples hubs across India, and adding region-specific assortment for the stores, as per Reliance Industries Ltd.
CLICK HERE TO READ MORE.
How LOGIC ERP is Helping Retailers Meet Their Business Goals
Over the past couple of years, omnichannel has been trending as digital channels became a critical part of the customer journey. Consumers not only bought things online but, more importantly, also gathered local information digitally and checked out reviews, etc.
CLICK HERE TO READ MORE.