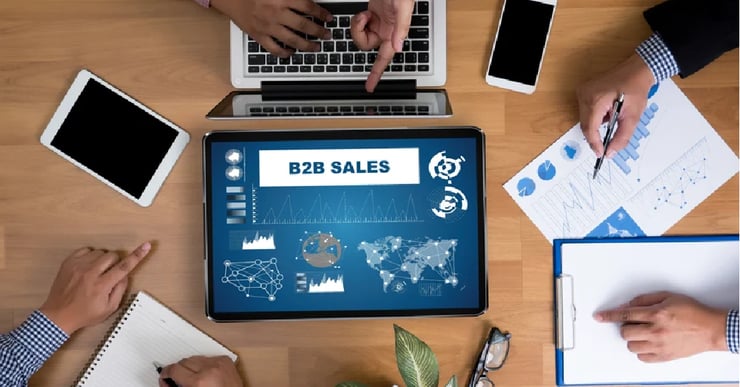 Discover how to reach your full revenue potential with this proven award-winning formula
We are approaching the last quarter of the year and you are far from meeting your revenue objectives. It's getting challenging with the new market dynamics driven by the pandemic. Also, in a B2B environment, mastering sales can be much more complex due to scope, scale and extended sales cycles.
You know outsourcing your sales team might help accelerate your results but you're hesitant on external support.
We've got your covered.
With over 30+ years contact centre sales experience working with clients across varying sectors and markets; CPM International Contact Centres have developed unrivalled expertise in creating high performing B2B sales teams, delivering incremental revenue growth of up to 10% in just 3 months. How have we done it? Our strategy formula encompasses people, process, customers, technology, and partnership.
In this article, we will be covering our 5 top components to creating a best in class outsourced B2B sales team and provide you with best practices on how to achieve it.
1. Defining what success looks like: Process definition & improvement
Defining business aims and challenges together is the first step to establish an effective sales process framework and a clear strategy for sales pipeline management. A streamlined framework can promote speed and agility and allows for innovation, constant development, and growth. There are two key considerations at this stage:
Effective integration:
Take a holistic plan to design and optimize processes. A combination of sophisticated technology and a collaborative approach helps build up a dynamic business relationship with your partner. Together, you can develop and interpret insights, perform transparent root-cause analysis, create joint business plans, and execute continuous improvement.
Progression and achievement:
Keep track of performance, productivity and quality to detect issues rapidly and provide the knowledge needed to improve processes. Different data sources including CRMs, web forms, CSAT scores, etc. can be fed into data visualization reports through tools such as PowerBI to provide deep, actionable insights to reach your goals swiftly.
2. Developing your motivated team: People training & performance
People are your most important asset. In particular, in a B2B environment the sales team usually deals with customers who are already subject matter experts, so account managers have to be product savvy and also knowledgeable on business development. Understanding the employee journey is essential to have a highly skilled sales team – from hiring passionate people, onboarding and training, to motivating and empowering professionals.
The Training journey:
An ongoing sales training plan is the basis of your team member's performance capacity. For this reason, training does not stop at onboarding and brand immersion; a continuous coaching approach with a focus on client's products, services, and new technologies is critical for enhanced results. Furthermore, as sales is centred around people and building relationships, soft skills such as ability to relate, communicate and actively listen are as just as important focus to drive high performing sales teams.
The Talent Development journey:
Career development, along with a positive work environment and employee engagement strategy are integral to keep the team motivated, retained and driving results. A clear Personal Development Plan (PDP) enables employees to own their career progression, based 100% on meritocracy, with an emphasis on examples of going the extra mile and look for opportunities to add value to client relationships.
In addition to PDPs, and as a standard with all sales focused programmes, financial incentives are a great way to keep sales team members motivated on closing sales. KPI targets and incentive schemes are typically defined in line with the financial year and can be based on a monthly, quarterly or half yearly payment, subject to each project's needs. Performance measures encompass results, quality and productivity outputs. Our approach to setting, measuring and financially rewarding performance is simple: does it meet our client's objectives, does the customer have a good experience and are we creating the right behaviours within our teams?
3. CX equals sales: The Customer journey
Delivering great customer experience results in higher sales conversions. That is why having a customer-centric culture in place is so noteworthy for a sales team. Understanding customer needs helps optimize the customer journey towards a 360 approach where cross-selling and up-selling opportunities can be created. Working on an account management basis can assist the customer journey as the manager can focus on nurturing the customer relationship. It is a more personalised selling process resulting in higher sales and customer satisfaction.
In the B2B environment, only 23 percent of B2B companies have embraced a customer centric approach (Forrester, 2019). However, the growth window of adopting this strategy have been proven to be enormous and it definitely creates competitive edge. What are you waiting for to embrace it?
4. Accelerating informed decisions: Technology & Insights
Whilst the sales process is mostly powered by people skills, technology is a meaningful factor which should not be overlooked. Technology can be used by sales professionals to improve visibility and generate more leads, build a new business pipeline, optimize conversations, nurture and accelerate conversions.
In addition, investing in state-of-the-art technology allows to visualize business impact and its projection to make the right decisions faster. Operational effectiveness is achieved thanks to CRM systems, real time reporting and predictive analysis. Innovative tools should be adopted by sales teams to not only fuel the sales process but also complement and aid in the relationship development approach. For example, tools such as LinkedIn Sales Navigator have been proven to help speed up the sales cycle by focusing in on the right prospects 90% faster.
5. Great partnership: working together
Outsource your sales team to a partner, not a provider. It is all about a win-win situation in which trust and communication are the foundation.
Two-way communication and collaborative approach:
A solid cooperation between the outsourcing agency and the client will make the sales programme more agile. We recommend working with an open-door policy across both businesses to coordinate and plan together according to transparent objectives and expectations.
How client can benefit from the partnership:
Outsourcing your sales force drives cost efficiencies and increased sales. You will be hiring sales specialists, highly trained and working in an optimised team structure for which scaling is organic and natural. Moreover, experienced sales people keep up with latest trends and have access to tools and tactics needed to thrive in any business climate. External sales teams are not only responsible to provide accountability and reporting but also make recommendations or adjustments, helping to create sustainable sales strategies aligned to your business growth objectives.
What if you could rely on a trusted partner who knows how to seamlessly employ this winning formula? You will be able to benefit from a high-performing B2B sales team focused on growing your business while leaving you free to get on with what you do best.
Don't miss out on the competitive advantage of an outsourced B2B sales team and get started with the 5-step strategy today. Contact us at infobcn@cpm-int.com to find out how we can build up a bespoke sales programme tailored to your business objectives and needs.