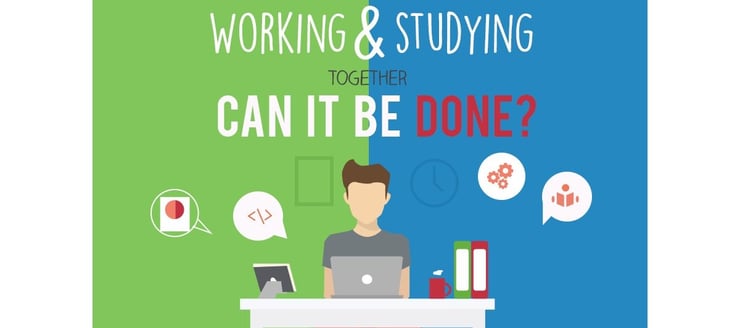 At some point of our career we face the decision of working and studying at the same time. Whether you are a student looking to pay your fees or a professional looking to upgrade your skillset, the idea of combining studies with a job can seem very daunting for some people.
Can I stay professional at work while also studying? Would I have time to hang out with my family and friends? Is it worth all the sacrifice? Are some of the questions that might make you hesitate about pursuing that master you are interested in or applying for that full-time job while finishing your studies.
I think everyone that has made the decision of working and studying would agree that is a very rewarding experience. Despite all the sacrifices that need to be made, the opportunity to abroad your skillset and achieve the goal you have set for yourself has no price! Both work and studies help you develop and grow in different ways, and by doing them simultaneously you will test your capacity to plan and prioritise. And you might be surprise with the outcome!
At CPM we are a true believer that working and studying can be very beneficial for both the employee and the employer. We have had the pleasure to welcome many interns for short and long periods of time and the results have always been very positive. We are passionate about supporting new talent and provide them with the right tools to help them gain experience. At the moment, we are delighted to have welcomed Maëlle Le Ruyet, who has joined us from France to combine hands on experience with her Marketing studies.
Also we support our current staff to pursue studies. As our people are our finest assets, we have a strong belief and culture to grow our own. We love to see our employees developing and broaden their skill set, which help them to progress in their career.
If you'd like to know more about working and studying together, we invite you to have a look at the infographic below by our guest blogger, Aris Grigoriou, Student Recruitment Manager at Study Medicine Europe. In this great piece, you will be able to get more details about the benefits of combining work and studies, as well as how you can make it work.