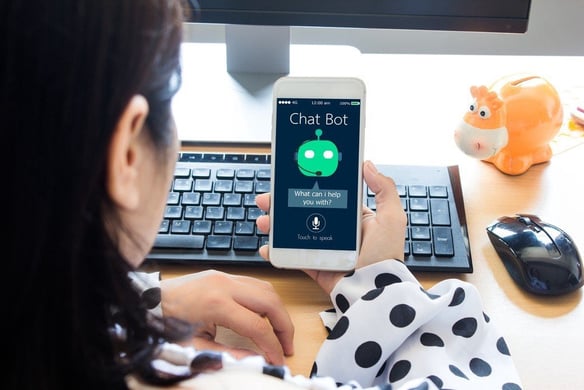 In an era where consumers are looking for a more personalised service and an immediate response when interacting with their favourite brands on-line, more and more retailers are bringing on board the use of Chatbots.
Chatbots are computer programs designed to interact with customers and simulate human conversation through artificial intelligence (AI). They are typically used through messaging platforms such as Kik, WhatsApp, Line, Snapchat, Facebook Messenger, among others.
Major brands are experimenting with chatbots as a way to interact with customers more naturally, build loyalty and drive sales. On the other side, consumers can get customer support, ask questions, get personalised recommendations, read reviews, and click to purchase all from within messaging apps.
Chatbots help closing the gap between conversational commerce and online shopping, which is an increasing trend in Ireland. According to the PWC Irish Total Retail 2017 Survey report, Irish consumers are comfortable buying online with 25% of respondents acknowledging to shop online at least weekly. At the same time, nearly a third 30% say that their mobile will become their main shopping tool in the future. This trend is likely to increase and retailers should embrace new ways to connecting with their customers.
Among the main benefits of using Chatbot for retailers are:
Consistent Customer Service: As chatbots' responses are programmed, they represent a great opportunity to build your brand and provide a consistent customer service.
Immediate responses: Chatbots offer the possibility to answer customers' questions in real time, which increases the possibility to speed the shopping time.
Product order/service delivery: Chatbots can also take products order in a safe and fast way. Delivery can also be set up and track through this tool.
Product recommendations: Chatbots allow customers to see, share and purchase products in their catalogue. Also recommendations can be suggested based on customer's preferences.
The retail industry is now being transformed with the emergence of conversational commerce. As more people get used to transacting on chat, more retailers will welcome this trend and revolutionise how people make purchases online.
References:
https://www.shopify.com/retail/chatbots-for-retail-what-are-they-and-how-retailers-can-use-them-to-spark-sales