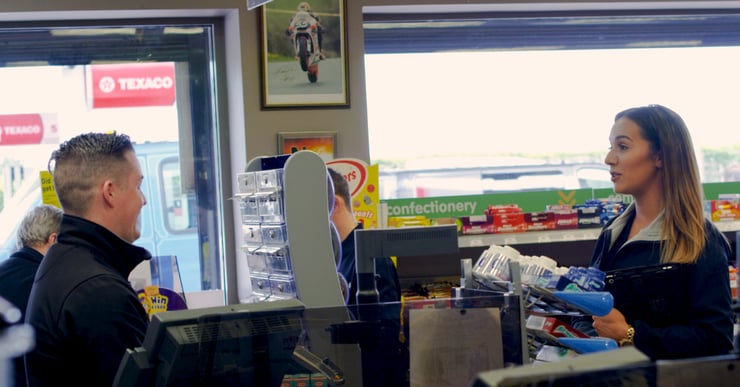 In this blog post Laura Gillick give us a complete overview of her role as a Sales Representative at CPM. She has plenty of experience within CPM and she shares all the key activities, benefits and challenges of her role in the following interview:
How long have you been working with CPM?
I began working for CPM 8 years ago. I had been in College and had worked for Dunnes whilst in College. A family friend told me of a merchandising job for Disney through CPM.
Over time, I began to cover some of the other brands that CPM work with such as Nielsen, GSK, Hermes and National Lottery. When CPM won the PepsiCo account I began doing merchandising for the brand in various Tesco's and Dunnes Stores. Over the summer I was given the opportunity through my experience to take more responsibility with PepsiCo to help cover the workload. This in turn helped to pave the way for me becoming a full-time rep for the brand.
Why did this job appeal to you?
The role of a Sales representative is great as it challenges me and drives me to achieve both professional and personal goals. I also like the routine of having the same calls every week which helps to build up a good rapport with management, staff and customers.
What training have you been given?
I have received different forms of training over the years, whether it's to do with merchandising for various brands or market research. CPM are always there for their staff, whether it's for training or to help solve any issue that may arise.
What are your biggest challenges?
I think one of the biggest challenges is to always be aware of trends, competition and their products and how we at CPM can strive to keep up with an ever-changing market.
What are your main responsibilities?
My main responsibilities are doing up orders for Dunnes Stores, merchandising and liaising with management and staff within Tesco and Dunnes about products, services and upcoming promotions. Other responsibilities are to raise awareness, drive sales and heighten the profile of PepsiCo/Walkers through setting objectives and generating new ideas and ways of achieving them.
What do you think are the most important skills needed to do your job?
The main skills I think that are needed for this job are to be ambitious, set goals, have drive to achieve them, good attention to detail and communication skills.
At CPM we have over 30 years experience in Merchandising on behalf of some of Ireland's blue chip companies. We are not only passionate about growing brands and increasing sales, but we are also very committed to growing and developing our people from within. We encourage people to push themselves and broaden their experience.
If you are looking for a new challenge in your career, why not considering a merchandising role? At the moment we are recruiting for Christmas Merchandisers. This could be the perfect opportunity you were looking for to start a new role and earn some extra money during the festive period.
Would you like to get more information about this great job opportunity? Our recruitment team would love to hear from you. Contact them at recruitment@cpmire.com