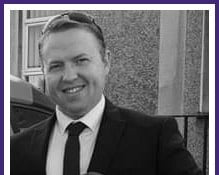 What prompted you to consider a career in sales Richard?
If I'm honest I took a leap of faith jumping into Direct Sales. I had worked in various jobs beforehand (Banking, Personal Training, Music, Graphic Design to name a few) and financially - with a growing family, I was looking for something with more scope and reward. I'm definitely what you'd call a people person. I've always enjoyed helping and guiding others where I can. I also knew that sales was a sector that was ever increasing, so I just went for it.
What attracted you to CPM?
At this point I decided to do a bit of digging into the companies that were offering sales roles. Many were offering the sun, moon and stars, but the employee reviews online said otherwise. One company stood out though... CPM
They had a really inclusive approach to their people. It was their mission to have a happy, healthy and well-rewarded workforce, something I'd still consider quite rare among big business in the country.
I bit the bullet, applied for a Field Sales role in the Telecoms sector and from there my journey really kicked off.
How did you progress? And how did you end up in Recruitment?
I started the Residential Field Sales role (door to door sales) in 2017. I was nervous at the start but soon found that if I was just my usual relaxed self - and spoke to people just like I would my friends or family, people were unbelievably welcoming! I have so many fond memories of having tea with families and building some really strong relationships, while at the same time earning new customers.
I claimed the "National Rep of The Month" title (out of a team of 96 if I recall) in my first full month working solo which was an awesome feeling. It came with a nice voucher and my name on a plaque which was unexpected! Because of the uncapped bonus, it also came with a pay cheque I never thought I'd see in my life for 1 month's work!
Anyway, I honed my skills further over the following months as CPM offered me a place on the "JET (Junior Executive Training) Programme" where I learned a lot with some fantastic guest speakers. A few months later I was asked if I'd like to do some coaching with new starters. Another few month passed by and I was promoted to Assistant Regional Sales Manager. Again, learning many new skills along the way.
Before the end of my first year in sales I was then offered the opportunity to join the B2B (Business to Business) side of the telecoms channel. I gratefully accepted. It was another step up the ladder and I was quite confident in my abilities by this stage. Needless to say, the pay and bonus were again above and beyond what I'd expected.
About 9 months later I moved away from CPM (briefly as it turns out) to work with a firm as a sales consultant closer to home. It suited at the time but quickly I realised the scope for progression was nothing like what was available within CPM. I had a great relationship and kept in touch regularly with my previous CPM managers, so it wasn't long before I was offered to join the Vodafone SME Business channel. I was brought in as a Team Leader and immediately realised that this is where I should be. I stayed on this SME Business channel for over 1 and a half years – right up to summer 2021. At that point I unfortunately had some health issues to deal with and working in the field was no longer an option. I was quite down about it as working with people was what I loved.
This dark place I'd found myself in was brief. Very brief.
I got a call no more than 2 weeks after bowing out from the field role only to be offered an opportunity to work with CPM HR in Recruitment! I couldn't believe it. I could now work with the managers and friends I had made along the way while recruiting people to do exactly what I did! It was such a great feeling, knowing that even as my circumstances changed – CPM still had my back. And that's where I stand today, working with the best people, in the best company that I've ever had the privilege of working with.
What skills / qualities contributed to your sales success?
Many I have picked up from my training along the way, but these would be right up there:
Be a people person. Treat everyone with respect and listen with purpose
Be aware of people's body language, tone of voice, the speed at which they speak, and be aware of your surroundings as they can provide a lot of information when selling
Be understanding and have empathy. Be the person that is genuinely there to help
Be honest. You only know what you know so don't make up answers. If you don't know something, people would rather you say, "good question" and tell them you will find out and get back to them asap
Be confident. Take every opportunity, knock every door, experience the variety of personalities out there and learn how to work with them! It's extremely rewarding
Why would you recommend a career in sales and to whom?
I think what I've said so far covers the "Why" quite well. As for the "whom"? Honestly, Direct Sales is for anyone that likes to socialise, to help others, to learn new skills, and enjoy feeling like an equal part of a team. Also, for anyone who likes money 😊
What would you say to someone reading this who is thinking "I'd like to find out more?"
Sure! Well as I'm now part of the CPM recruitment team they can contact me directly at rdecourcy@cpmire.com. Or check out current positions available at CPM here Current Opportunities