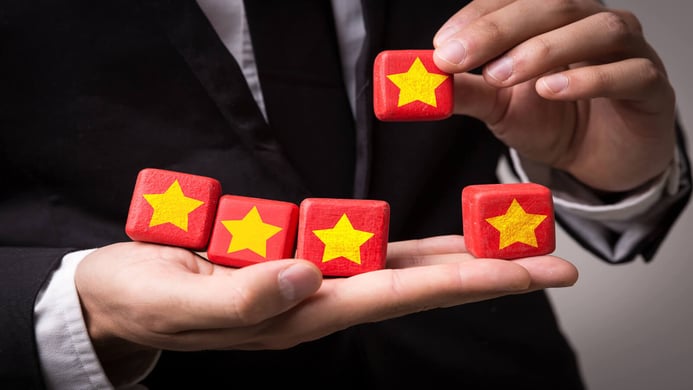 Detail, enabling brand manager to track product ratings online - It's a popularity contest
Product ratings
Consumer rating is a crucial selling point for brand managers and retailers alike. Faced with two equal products, a consumer will likely go for the one with the best rating. At the highest rated store. So how does one achieve a 5-star consumer rating? And how can brand managers keep track of their products ratings? Our online merchandising tool Detail can help, and this article will tell you how.
Put your money where your stars are
Consumer ratings can be used to evaluate a specific product, a retailer or a customer service desk. For a brand manager this can give valuable insights in to how and where to put one's effort and marketing budget. Say for example that the same product receives different ratings at different retailer websites. Why is that? Is the product marketed differently at the different websites? How does the retailer websites differ from each other? Is it a customer service issue? Detail helps brand managers and product owners to keep track of ratings over time, and at different retailers, in order to effectively boost a brand or product.
Benchmark against competitors
For brand managers and retailers alike, a rating-system is a great way to benchmark against other products and retailers. It gives an instant evaluation of how well you are performing in this very moment. Are the product specifications up to date? You can be sure you'll find out if they are not. Is the website easy to navigate, can the consumers find the products they are looking for? Expect low consumer ratings if they can't. Consumer rating is a tool for feedback and evaluation, make sure to use it. Don't despair over a bad rating; make sure to learn from it in order to get better. Because that is the secret of reaching a 5-star rating – the ability to listen and respond.
How to reach 5-stars
The headline is misleading, there are no secret tricks to getting an instant 5-star rating. That is also why it is so valuable, consumers know that if a store or product has enough ratings, it will be somewhat accurate. But there are steps that you can take in order to increase your chances of hitting the review jackpot. As an online channel manager, you can make sure that your products are visible, searchable and properly listed – in that way making the consumer experience a pleasant one. In a physical store it's easy to check that your products are correctly displayed, but online it has been harder. Until now, thanks to Detail Online. Detail helps to collect information to evaluate your online presence and product description pages, making it easier to identify improvements in the shopping experience (which leads to better consumer ratings).
An ongoing process
Like concluded above, the only way to become and stay a 5-star retailer is to listen to the consumers. To make continuous improvements and to be consistent in everything that you do. And to put emphasis on proper product display and a smooth shopping experience.
Make sure that your brand and product is visible, has a good share of shelf and is kept in stock. Focus on the details. And reach for the stars.
Good luck with your sales!
Contact us today for more information