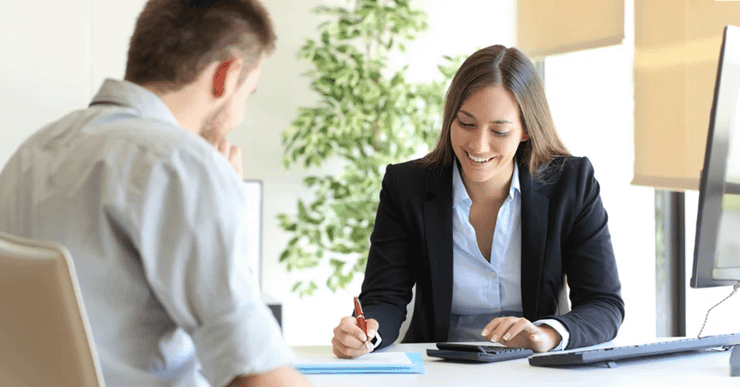 An interview in broad terms is a conversation between a job applicant and a representative of an employer conducted to assess the capabilities of the candidate. This article will go through the key points that every candidate should consider to be successful at their next job interview.
Tips that will help you to have a great job interview:
Practice and Prepare
Always review the most commonly questions asked by employers for the position that you are applying for. There are plenty of examples available online to guide you. You should develop strong and specific answers that emphasize the skills which are relevant to the job description. Where possible, give tangible examples of the results that you have achieved in previous roles.
Start with "why"
Before getting in to the questions of the interviewer, you should start your introduction with an overview of why you are interested in that particular job for that company. Talking about your motivations and giving examples of your previous experience will gauge the attention of the employer. By focusing on why you were motivated to apply for the job, you will stand out of the crowd.
Build rapport
It's very important to build rapport with your interviewer during the conversation. As a result, your chances of getting hired will increase tremendously. You can do this by referencing to the information you found about the company while you were in the research phase, and make sure to emphasise the areas of the business that interest you the most. Researching about the company and showing what you know is key to make the conversation flow more naturally and generate a positive rapport with your interviewers.
Going the extra mile
Interviewers are constantly hunting for candidates who go the extra mile. Make sure to include in your responses the best examples when you went above and beyond of what was required, and the results you achieved from your endeavors. Sharing these stories with your interviewer shows that you are an enthusiastic and motivated individual.
Share your hobbies and volunteering activities
Employers like to listen about the things you are passionate about. Sharing your hobbies can make the conversation flow more naturally and it's also a great way to build rapport. Likewise, feel free to mention any volunteering activity that you take part in, as most companies have a CSR plan and are always open to welcome new candidates that have a cultural fit. By sharing the types of activities that you dedicate outside the working hours, you will be able to showcase different aspects of your personality.
Be on time
Everybody knows showing up early is a sign of respect. Interviewers appreciate and value when their candidates arrive on time. On another hand, showing up 5-10 minutes early will help the candidates to relax and get used to the office environment.
End with a question and a follow up email
A successful interview always ends with questions from the interviewed. You should always ask a couple of questions to reflect your interest in the role and the company and its culture and values. To finalise on a high note, it's advisable to send a follow up email with a thank you note reiterating your interest in the position.
At CPM we are always looking for the top talent in Ireland. We value our people and invest in personal and career development. Helping people be their very best and enjoy the work they do is part of our culture. We encourage our people to adopt the healthy work-life balance that is enshrined in the CPM Values. It's an exciting time to join us and find your place in our success story. If you are looking for a job, have a look at our current job vacancies.
References:
https://www.thebalancecareers.com/top-interview-tips-2058577
https://hbr.org/2019/04/how-to-show-youre-passionate-in-a-job-interview