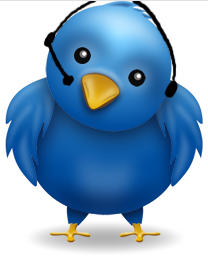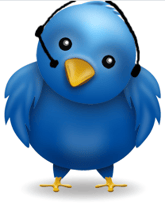 Customers are the most important people for any organization and the success of any business is related to how satisfied they are. That's the reason why companies need to learn how to please their customers. And what better way to do so than providing a strong Customer Service.
Social Media is one of the best tools for providing Customer Service because it offers immediate communication and a more personal brand experience, while increasing the visibility of the brand.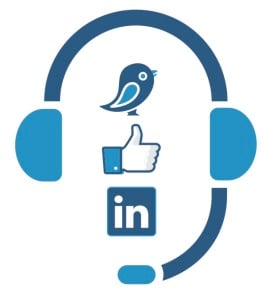 Nowadays customers want to be heard –and not only that– they expect a quick response. They don't want to go through all the hassle associated with traditional Customer Services tools, like annoying phone menus and long hold times or extensive on-line forms that never get a response.
On the other hand, Customer Service is not longer restricted to just offering solutions to complaints; it's about actively listening, monitoring and engaging with brand mentions on-line. A good Customer Service channel will include tips, tricks and hacks, as well as information on how to use your product.
CPM has gathered some examples of successful retailers using Social Media as a Customer Service tool:
Tesco:

Tesco's Social Media strategy puts Customer Service at the heart of every interaction, placing as a top priority to engage positively with customers. Of the 7.500 tweets that are received weekly, approximately 60% require a response. 93% of those get a response within an hour and 86% within just 43 min.
In the UK, Tesco has defined various Social Media profiles for different purposes, so their Twitter corporate account is different than the one that deals with Customer Service.
Below is an example of a Customer Service replied on Twitter by Tesco Ireland: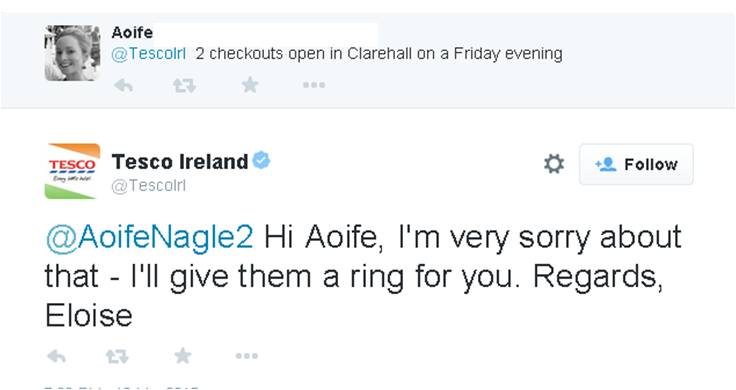 Next On-line: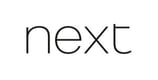 Next On-line offers a quick response (average first response time of 36 min) in a personable and friendly way. They use Facebook (via direct and/or private message) to help their customers with any type of enquiry, as demonstrated in the examples below: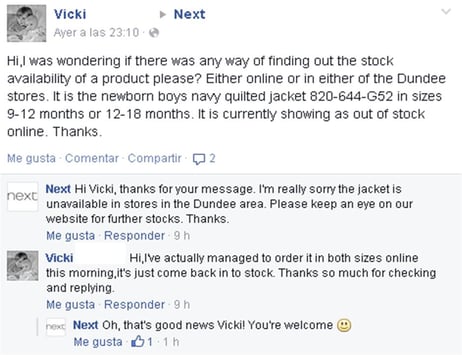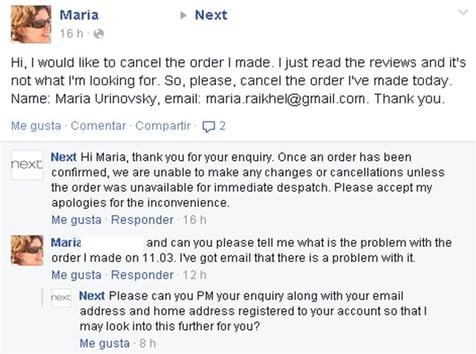 Walmart:

With almost 35 million fans on Facebook, Walmart has a lot of people to listen to and nonetheless they have an excellent 28 minutes average first response time. If you scroll down on their Facebook page, you will notice that they reply both to positive feedback and customer complaints. Have a look at some examples below: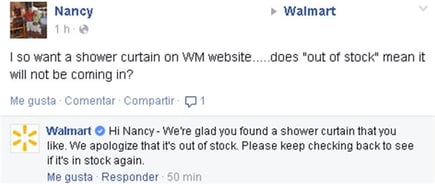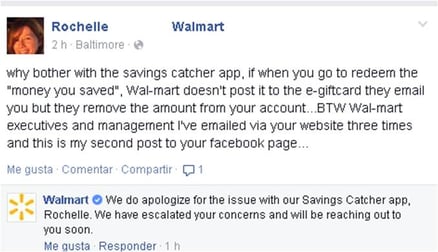 So whether for positive or negative customer feedback, having a timely response mechanism is key to keep happy customers and maybe even making unhappy customers feel a little bit more valued.
Sources:
http://www.ignitesocialmedia.com/social-media-examples/top-brands-social-media-customer-service-facebook-twitter/
http://www.forbes.com/sites/jaysondemers/2014/08/12/7-reasons-you-need-to-be-using-social-media-as-your-customer-service-portal/2/
http://www.socialmediaexaminer.com/social-media-for-business/
http://www.cca-global.com/gsx/content/intouch/?contentid=274