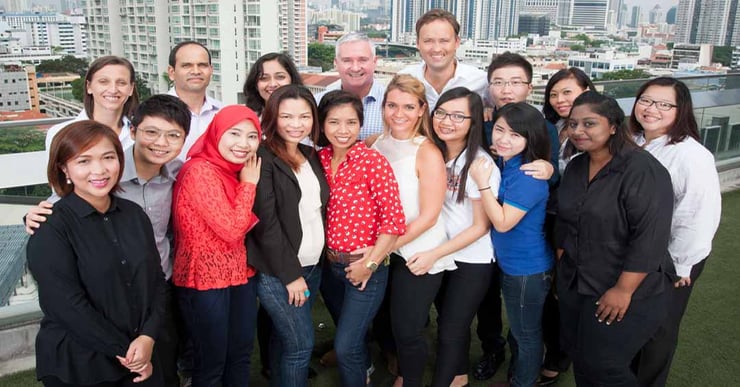 The Key to Delivering a Successful Regional Sales Activity
Delivering Success Across the Region
Our latest CPM Expert Speak comes from Martin Ryan; Chief Development Officer at CPM Group of Companies Asia Pacific. Martin has worked for CPM for eighteen years and has over twenty five years industry experience. He has overseen numerous regional projects, experienced great success, but also some crushing disappointments.
Here's his candid overview of how to deliver regional success based on personal hard lessons learned.
Delivering Regional Success
Winning regional business across a diverse geography is a special thrill. Within the space of a few hundred miles, languages, cultural norms, and currency can morph into something wholly different. Navigating across regions is always tricky and although better communication tools may have made distance seem smaller, the secret of successful regional sales activity lies in how we combine the efficiency of modern technology with other more human tools.
The Starting Line
Start by defining your team's purpose. When CPM Singapore embarked on a regional project with a leading tech client we spent time completing a detailed analysis of their particular vision of success. What were the common threads applicable to all countries? What were the precise elements of measurement?
If possible, look for insight to those who are already delivering. A major factor in CPM Singapore winning a regional project with another tech giant was the time invested in understanding how the established Australian team delivered their strong track record of success. They were hugely generous in sharing their knowledge and we made substantial effort to join the dots so we could apply their established procedures across the region. This knowledge also gave us deep insight into the client's culture and their expectations of an outsourced field sales agency. I believe this was a significant differentiator between CPM and our competitors, and a critical part of our successful bid.
You Need a Detailed Contract
Once the team's purpose is clearly defined, time must be taken to draw up a robust contract. Of course, it's always hoped that everyone will play fair, but when crossing country boundaries it is crucial to state any legal liabilities, payment terms, and other obligations. Painstakingly outlining these clauses is something I learned the hard way. Relationships built on trust are important, but when other departments and countries get involved you need an unambiguous written agreement that balances transparency with what you may normally be take on trust.
You also need a clear process to manage billing and currency fluctuations. Having this in place in advance makes billing seamless and revenue easier to forecast. Outlining obligations when the contract ends is also important as different employment laws exist in different countries and you don't want to be exposed to large redundancy payments.
This is also the time to set some ground rules for communication and response times, and all KPIs should be stated. Clearly outlining these before the activity starts will set realistic expectations and avoid mission creep.
Build Credibility by Building Key Relationships
A regional team must ooze credibility and to do this they must be capable. Some of the leadership attributes required include a good dose of self- confidence, the ability to think clearly and make decisions, being self- driven when remote, endowed with brilliant communication skills, technically astute, and not scared to present both to groups and in front of the camera. An underrated skill is the ability to communicate over the telephone, both one to one and in a conference call.
To make regional activity fly you also have to be a relationship ninja.
Start by knowing the client's country by country structure. How does it differ? Who are the key people and what do they do? Have a clear understanding of which relationships to concentrate on and then put the time in to make them work.
Part of this includes an attitude of transparency and openness which can go beyond your working life. Trust people and give them access to your calendar, include details like holidays and children's events at school. We live in a time when the boundaries between work and life are blurred and a regional role means you will be working outside of your own time zone's conventional working day. This is the new norm so embrace it and make it part of your life. Inject a genuine and vigorous enthusiasm.
Once you have established this human connection and built key relationships at a local level you will know who to contact in each market, you will build respect, save time and avoid potential misdirection.
Make Your Field or Contact Centre Team the Most Important Aspect of the Activity
Your most important customers are the team delivering results. They're the ones generating sales and smashing targets. They're also spread over a large geography and making them feel part of a unified, emotionally connected team is a critical priority. Involve them, talk to them face to face whenever possible and painstakingly understand their needs and frustrations. Take the time to really listen and make sure you paraphrase what they are saying to prove you have heard them.
Creative Solutions
A regional sales project requires a global vision to set the strategy, but management of it needs to be carried out regionally utilising a deep insight into local processes. It takes dogged determination and patience to unravel and understand each step of the data collection process and collation of reporting. Acquiring this knowledge ensures a strong foundation, and facilitates informed decision making. Applying this rigor along with an understanding of where existing CPM solutions can fill gaps means you can make informed and creative decisions on what to adopt, or if it almost works, what to adapt, and only as a last resort do you revert to reinvention.
Grow Your Capabilities and be Innovative
Regional sales activity is not rigid; it is an iterative process that requires a solution that's nimble and responsive. Knowing how to leverage existing solutions and apply the best of what is available locally is a fine balance, as giving teams too much freedom can compromise results. You need to know what's non-negotiable and apply a rigorous application of continuous improvement. When you spend time understanding how people work you will know when it's time to use the carrot, and when the use of stick is more appropriate.
Summary
To summarise, here's what I've learned about running a successful regional sales activity. Start by really knowing your purpose, both regionally and in each country. Once you have clearly defined your objectives, assemble the reporting structure around them. Adopt processes that work elsewhere in your business, adapt them to give local relevance, and only reinvent as a last resort. Make sure you have a detailed contract and include clauses that define liabilities.
Build key relationships. Success stems from open human trust. When possible be available across the region's working day but also let people know when you are not available. Embed yourself into your client's organisation and become indispensable without being arrogant.
Build credible and capable teams, culturally adaptable and results-focused. Understand and connect with your sales team. Make sure they feel you are involving them and understand their needs and frustrations. Grow your capabilities. Solutions are iterative and constantly evolving. Be energetic and responsive and don't become complacent.
Finally
Branching out from the local to the regional can be bewildering and at times maddeningly frustrating, but it can also be richly rewarding and joyous, transforming your understanding of both yourself and the hyper-connected global world we inhabit. Fully embracing a deep knowledge of your client and becoming a trusted indispensable regional partner is one of the best things in our business.