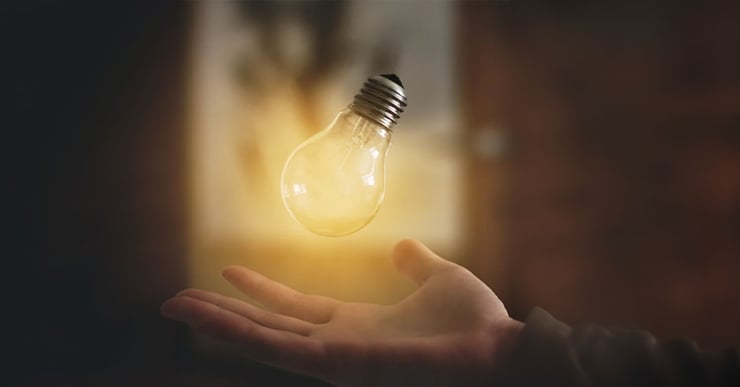 "Whatever you do, do it well. Do it so well that when people see you do it, they will want to come back and see you do it again, and they will want to bring others and show them how well you do what you do." – Walt Disney
The scope of innovation is no more limited to product design. Businesses are making their brand stand out by using innovation in every aspect. Retail innovation is one such example. From the interior design of the store to the strategic product planogram, innovation is increasingly enabling companies to punch above their weight.
Retail, Innovation & Marketing
A common use of innovation in retail is brand activation. Brand activation is an important sales and marketing technique which aligns product and brand image with the interest of your customers. It is when companies go out of their way to engage customers in a campaign that helps them promote their product or build brand image.
An example of this is when Vodafone added a slide next to the escalators of a shopping centre in Spain, for the launch of their 4G internet service. It was a brilliant idea to create awareness about their new technology and to metaphorically represent how fast their service was. As Benjamin Franklin quotes, "Tell me and I forget. Teach me and I remember. Involve me and I learn." Engaging customers through such brand activations makes customers feel more connected to the brand and its values, creating long lasting loyalty.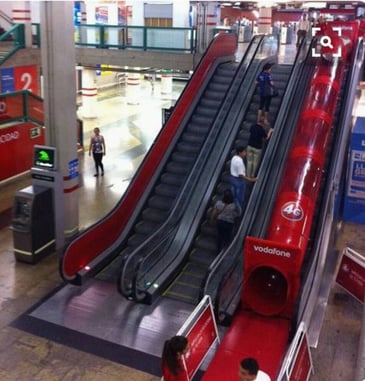 Retail, Innovation and Technology
Retailers around the world are implementing various technologies in their stores to make retail convenient and more attractive. Technologies like AI, AR, and VR are being widely employed by companies. Through the use of various creative designs that accentuate the purpose of the technology implemented, the companies are able to win the attention of their customers.
Following the steps of Amazon, Sainsbury has modelled a checkout free shopping experience where the customers can avoid queuing and make payments on their app. Their technology is inspired from Amazon's effortless scanning model in Amazon-Go. The fascinating thing to note here is that technology is revamping the retail sector at the very grassroot level and all companies are actively participating in the same to outshine competitors in the market.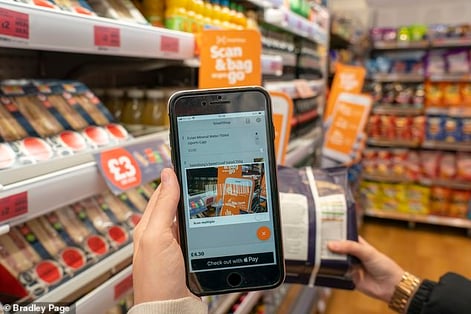 Retail, Innovation and logistics
Logistics are an integral part of retail. Not only can efficient logistics save time, but also can increase customer convenience and that of the staff. When the layout of the store and the planogram of products are optimized, making the merchandised products more visually and physically accessible, the sales are bound to increase.
A rather interesting example of this is Bonobos' Guideshops. Initially launched only as an online store, Bonobos has introduced their brick-and-mortar Guideshops which give customers a guided tour through their range and into finding the right fit. The interesting thing about these Guideshops is that the customers can leave the shop hands-free as these shops do not store stock. After accessing exactly what the customer needs, the staff then helps the customers to place and order which later is delivered to them.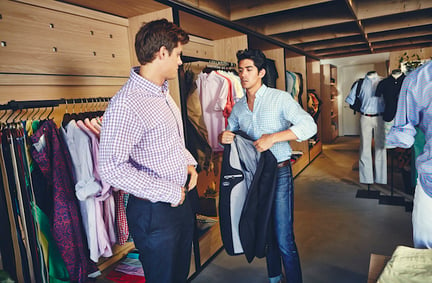 Why care about innovation in retail?
Even after the increasing availability of goods online, the significance of brick-and-mortar sales has not reduced. This is because customers when buying the product, are looking for an engagement that contributes to their emotional satisfaction. Innovation in retail can thus play a major role in helping customers engage with products in way that lets them make a happy memory out it.
While customers may or may not remember the words of the staff on floor, they will remember how the store made them feel. Design and innovation have the power to influence the moods of the customers that walk into the shop. Retailers and designers together can create a more enriched experience for the customers that make them linger in the stores. The psychological impact caused by the creativity and imaginative installations or solutions, gives the customers an escape they long for all day while also being relatable. It is almost as if the companies through their brick-and-mortar innovation create a utopia for their customers.
In the neck to neck retail world, a customer centric approach is needed to set the companies apart and get loyal customers and innovation integration in retail is the way to go.
At CPM, we believe in constant innovation and improvement. To know more about insights into the retail world and how CPM can help you innovate your retail business, contact us at info@cpmire.com or call 01 7080 300.