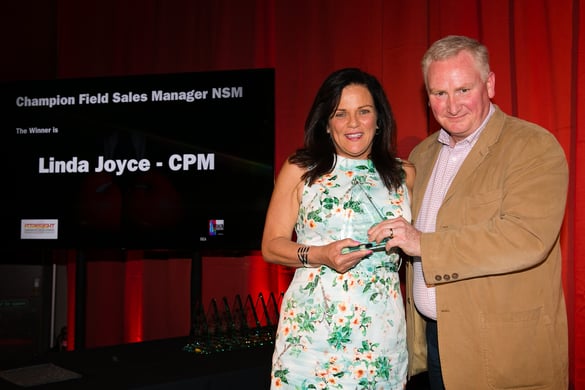 Linda Joyce, National Sales Manager for CPM's Residential team for eir, has been recognised at the ICSA as the Champion Field Sales Manager 2017. After this well-deserved award, we had the opportunity to talk with Linda about what winning this prestigious award means to her and how she managed to achieve it. Here is what she had to say:
1. What winning formula did you apply to achieve this recognition?
The winning formula applied to achieve this recognition was putting a clear specific activity management plan in place to achieve one common goal and ensure every member of every department was very clear on that goal and everyone held accountable through a compelling scoreboard.
2. What have been the tangible results from your endeavours in this successful project?
The tangible results are consistent quarterly increases in all key performance indicators, every CPM/EIR metric has had a substantial noted improvement, executive development at all levels and a 45% increase in recruitment combined with a 40% reduction in leavers.
3. Did these positive results come from you solely or from your team's productive efforts?
These positive results are a reflection of the calibre of the team that I am so honoured to represent. Each member of my direct team has played an intricate part of our overall result.
4. What was the greatest obstacle you had to overcome and how did you overcome it?
The greatest obstacle I had to overcome was transferring time management skill set to my direct report team and ensuring each member was engaging in the right activities to achieve the right results. Daily accountability and clear focus, always beginning with the end in mind asking the question, "Is this activity getting you closer to your goal?" until effective time management became a daily habit.
5. Describe your proudest day on the job
The proudest day on the job was setting an all-time daily record exceeding target by 43%. The greatest part of that day was knowing all teams were performing at a high level.
6. What particular skill sets have you harnessed this year?
Skillsets that were harnessed this year include strong communication & influencing skills, effective time management & executive development.
7. What did winning this award mean to you?
Winning this award has been a wonderful experience for me and a spectacular achievement for our team. This award represents a team that has gone above and beyond to achieve our corporate and personal goals. I'm very proud and honoured to represent the Channel.
8. What advice would you give to salespeople that are starting their career in order to achieve the great results you have had along your career path?
Set a personal short term goal and then put a clear specific plan in place to support that goal. Keep score every day where you are with that goal. Stick with positive people. Make sure your goal is achievable, believable and conceivable. Don't give up as you can achieve anything you want in life if you help other people enough to achieve what they want but it starts with you!!