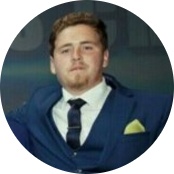 Common myths about sales jobs can deter job seekers from pursuing a fulfilling sales career path. However when we talk to Field Sales Representatives, we realise that working in the Field can be a very enjoyable and enriching experience.
Jordan Byrne, one of our top performers Field Sales Representative for the SSE account, has shared his experience as a salesperson. We invite you to read this very insightful piece to get first-hand insights into what it's really like to work on Door to Door sales.
A day in the life of a Field Sales Representative, by Jordan Byrne

In my opinion, there isn't a huge complicated process to working in the field. So, I'll start from the beginning. Like a lot of people, I never actually imagined myself doing Door To Door and I used to laugh at others for doing the job because I thought it was embarrassing. I was just coming out of school nearly 4 years ago, looking for a summer job and the only companies that would hire me, without experience, were Sales Companies. So I thought, "Why not? I'll see what all the fuss is about" and I've never regretted making that decision.
Working in sales/charity, doing Door to Door has been the most enjoyable experience of my life. I initially liked it because I like talking to people and meeting people from different areas around the country/world. Door To Door develops so many different inter/intrapersonal skills and it develops your confidence beyond measures. I used to be quite shy but after doing Door To Door I've become so much more confident, I've even done Sales Talks in front of 400-500 people without even breaking a sweat.
Then, of course, what really drew me in, was the money. In between Sales companies, I've worked in shops and hotels etc and I've never made more money than working in the field. What makes the work more enjoyable and driven is the opportunity to make huge commission (I've made €1500 in one week doing sales). In my opinion, it pushes you harder to work and, obviously, the more money you make, the more you'll enjoy your work.
I've worked for numerous charities, 2 home-security companies, selling car servicing and, most recently, another energy supplier. Door To Door, very simply is one of the easiest jobs in the world. Realistically all you're doing is talking to people, and customers are so much nicer and welcoming than people perceive them to be. The only difference between a Top Sales Rep that enjoys their work and a Mediocre Sales Rep that doesn't particularly enjoy their work, is simply based on their attitude. If you have the right attitude and mindset, you can make a tonne of money and progress very far in the company.
On my first week in CPM, I broke the weekly sales record and made over €400 in commission added onto my basic wage. There is also a lot of progression opportunities with CPM which has attracted me mostly to the company. My plan is to make the most money in the field, in the country, be a role model in the company, someone that people go to for advice or help and fast-track myself through the company.
At CPM we currently have a great opportunity for people who wish to start or progress their career in sales with the opportunity to work on behalf of one of the leading Energy suppliers, SSE Airtricity. We offer a fantastic guaranteed basic salary with incredible unlimited bonus earning potential! We provide full training and offer on-going support in the field.